What You Can Expect From an Office 365 Test Drive
While Arraya's Office 365 Test Drive could be coming to a town near you this summer, several members of our team experienced it in its native habitat recently. The goals was for attendees to gain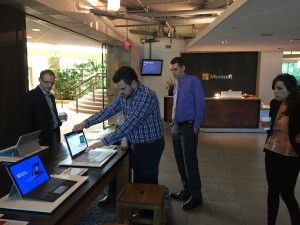 knowledge and experience that could help them better serve customers looking to deploy Office 365. The day also served as a preview of what our customers can expect from the upcoming Office 365 Test Drive Roadshow.
Representatives from Arraya's Project Management department were among those who traveled to the Microsoft Technology Center (MTC) in Malvern, PA for a hands-on session focused on Office 365. Before that could get underway, our team embarked on a tour of the MTC.
The MTC is home to many of Microsoft's latest innovations, which sit in the open for visitors to try out. Among the highlights was Microsoft's massive, 84-inch Surface Hub, built to reinvent meetings and business collaboration. In addition, there was also a 3-D printer hard at work on a Game of Thrones-themed doorstop and a full collection of portable Microsoft devices.
The centerpiece of the day's festivities, however, was the Test Drive. Attendees gathered in a room stocked with laptops and tablets. They then received a fictional scenario to work through using Office 365 tools. In the case of the Arraya team, they stepped into the shoes of a company in crises due to a troubled product launch. Other scenarios, set in worlds such as healthcare or education, exist to allow attendees to experience something closer to their actual vertical.
Attendees collaborated on possible solutions as if they were a team spread across different locations. They simultaneously edited a faux Marketing PowerPoint deck, leveraged the video/chat capabilities of Skype for Business, and searched for important documents using Delve. The Arraya team also compiled a to do list of critical tasks using Office 365's Planner feature and learned how to keep all of the necessary parties in the loop using Groups.
"I see products such as Delve and Planner as having huge potential for allowing the PM team to manage our tasks and resource scheduling," said Aldo Bettelli, a Project Manager for Arraya Solutions.
Even though some problems remained for the fictional company by the session's end, the important thing to remember about Office 365 Test Drives is they aren't about finding answers. Their purpose is to show participants how the components of Office 365 change the way teams work together to solve problems. In any case, the Arraya team still felt confident they'd helped put the company on the right path.
"I think the whole team will take away an increased sense of agency because of the ability learn from a tangible product, rather than a product description," said Juliane Klos, another of Arraya's Project Managers.
"The trip was like taking a peek into the future and seeing how Microsoft views everything working together," said Christine Heath, another member of Arraya's Project Management team. "It would be great to go back and have more time to role play on a semi-annual basis."
Step into the driver's seat of Office 365
Want to have your own Office 365 Test Drive experience? Grab one or two members of your team and join us at one of the stops on our Office 365 Test Drive Roadshow. During the month of June, one of our Microsoft collaboration experts will travel Pennsylvania and into New Jersey to guide others through these hands-on, engaging sessions.
Here's where and when you can find our Office 365 Test Drive Roadshow:
| | | | |
| --- | --- | --- | --- |
| Date | Time | Location | Address |
| June 14 | 9:30 am – 1:00 pm | Holiday Inn Cherry Hill | Cherry Hill, NJ |
| June 16 | 9:30 am – 1:00 pm | The Hotel Hershey | Hershey, PA |
| June 22 | 9:30 am – 1:00 pm | Holiday Inn & Conference Center | Breinigsville, PA |
| June 28 | 9:30 am – 1:00 pm | Courtyard Marriott Pittsburgh Downtown | Pittsburgh, PA |
Spaces are filling up fast. CLICK HERE to reserve yours today!
Have a question for our Microsoft team? Reach them directly at mssales@arrayasolutions.com. They're also available via our social media pages: Twitter, Facebook, and LinkedIn.