Cisco UCS New Product Announcements
In only five short years, Cisco has grown their blade server market share in North America from non-existent to first place.  This meteoric growth was fueled by an innovative architecture and simplified management.  Cisco is continuing to evolve its UCS platform to respond to the changing IT landscape.  Recently they announced enhancements and additions to the product line that will enable them to address additional customer use cases.  Here's a quick summary of the five major enhancements: UCS Mini, C1360 Storage Server, M-Series, Gen 4 Servers, and UCS Director Enhancements. 
UCS Mini
The UCS Mini is a branch/SMB optimized UCS blade system that will support up to 8 blade servers and 7 rack servers at initial launch (16 blades and 4 racks with a future firmware release.)  The UCS Mini targets large enterprises with branch level compute needs and SMB's who would like to take advantage of the benefits a UCS blade architecture provides.  Rumors are also rampant that this may become the base of an all Cisco Converged Data Center Infrastructure.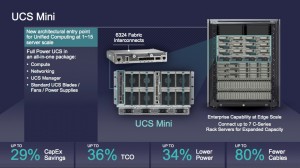 C1360 Storage Server
Rumors of a potential storage blade, possibly based on Invicta, were not addressed.  However, Cisco did announce a new storage rackmount server with up to 64 internal drives targeted at distributed computing with high storage needs: Hadoop, media collection and streaming, video surveillance, geo-mapping applications, etc. 

UCS M-Series
The new M-Series addresses the "cloud-scale" market where large numbers of commodity servers are needed to power scale-out applications.  Cisco has decoupled the compute components (processor and memory) from the physical components (power supplies, RAID controllers, Ethernet controllers, and other PCI controllers.)  This allows for a very scalable architecture that can easily be upgraded without having to repurchase that standard physical components. The solution is built on an 8 slot modular 2U chassis with compute cartridges that can house 2 discreet servers each.  At scale, the M-Series would provide up to 336 independent servers per standard data center rack.      



Fourth Generation Servers
Cisco also announced the fourth generation of the "B200/C220" server models. These new servers will be paired with the UCS VIC 1300 series, which operates at 40Gbps, as well as supports RDMA, which is basically accessing another server's RAM over converged Ethernet. Cisco believes that RDMA can match Infiniband speeds when probably configured.  These servers will all take advantage of the latest Intel v3 processors as well as scale up to 1.5TB of RAM.  Additional info after Intel's v3 CPU launch.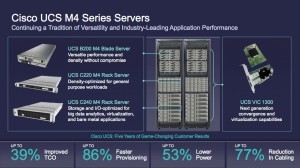 UCS Director
Cisco also released a new version of UCS Director, its vendor independent unified infrastructure provisioning and management tool.
Arraya Solutions is a leader in providing unified data center solutions.  Contact your Arraya Account Executive to learn more about these new Cisco solutions.