Addressing Constantly-Evolving Storage Needs with the Power of Flash
The storage needs of today's businesses are always evolving. An organization which starts out requiring some flash storage or a hybrid solution may eventually find itself processing more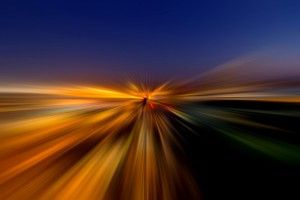 workloads which require faster and faster speeds. That can lead an organization to consider investing more heavily in flash just to keep pace.
Flash storage is nearly a must when it comes to workloads which require blazing fast speeds (e.g., databases). However, there are cases when some flash power is enough to get by and other times when flash may not be needed at all. The challenge of finding a way to address those varied needs in the most efficient and cost-effective ways possible lands on IT's plate.
The changing storage needs of organizations are reflected in the findings of DataCore's 5th annual State of Software-Defined Storage Survey. This survey looked closely at the state of storage today by asking IT pros: "What storage capacity do you currently have assigned to flash?"
53% said less than 10% of storage capacity is assigned to flash
18% said 10-20%
15% said 20-30%
7% said 30-40%
9% said more than 40%
In last year's study, 63% of respondents had less than 10% of their storage capacity tied to flash storage, or a 10% swing from what was tallied in this year's version. This illustrates a gradual trend, but a trend nonetheless, toward an increased reliance on flash.
All the flash power you need
At Arraya we recognized the need to bring powerful, scalable flash storage solutions to our customers' data centers. To make that a reality, we partnered with Nimble Storage. We believe strongly in the positive impact Nimble's solutions can have on transforming data centers into the highly efficient, scalable and resilient foundations that today's IT is built on.
In particular, we see Nimble's Adaptive Flash as capable of meeting the varied storage needs of today's businesses. It enhances performance, capacity and data security from a single architecture. In addition, it can safeguard and boost IT's capabilities without significantly adding to the complexity of managing the existing environment.
Adaptive Flash also:
gives IT pros the ability to toggle between multiple storage service levels (such as All Flash, Hybrid Flash and No Flash) to ensure resources are being used where they're needed most
supports seamless, minimally-disruptive growth by making it possible to scale compute, cache and other functions independently of one and other
enables push-button deployment that is designed to get resources out more quickly, making your IT team even more productive
secures your data by combining integrated snapshots, regular backups, powerful encryption and more
Under the hood, Adaptive Flash runs off Nimble's Cache Accelerated Sequential Layout (CASL) architecture and InfoSight. CASL enables flexible and adaptable yet powerful flash technology in a small footprint – all of which are signatures of Adaptive Flash. The other part of the equation is InfoSight. This technology automates and streamlines administrative tasks while also alerting IT to problems and suggesting solutions in real time. This makes it easier for IT to keep storage environments in top shape.
What to do next
The knowledgeable and experienced members of Arraya's team can help craft a storage solution that is perfect for your company's distinct set of needs, ensuring maximum ROI. To find out more about how Arraya can help, visit us at www.ArrayaSolutions.com. There you can view our data center strategy in depth or get in contact with an Arraya Account Executive. This can put you on your way to a more secure, available IT environment.
Also, be sure to follow us on Twitter, @ArrayaSolutions, to keep up with all of the latest company news, special offers and industry insights.