Arraya and CSP: What this Means for Your Relationship with Microsoft
The cloud has had an impact on almost every facet of life in IT – and the way in which Microsoft technologies are consumed is no exception. In the old days, customers used to have one partner, a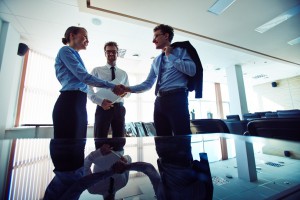 LAR (Large Account Reseller) or LSP (Licensing Solution Provider), from whom they purchased their Microsoft licenses. The LAR sells and walks away.
Then, they had a separate partner who would help deploy, manage and support the software. That arrangement used to be the norm; however, it's rapidly becoming outdated.
Today, the cloud has begun to lessen the reach of LARs or LSPs. Customers can now login to a website, compare and contrast solutions like Office 365 and Azure and then order whatever it is they need instantly. Even if they don't have the necessary on-staff expertise to shop for services or support them, customers still long for this kind of simplicity. In fact, studies have shown 67% of customers expect to be able to purchase multiple cloud services from a single vendor.
It was in this spirit that Microsoft's Cloud Service Provider (CSP) program was forged. This service, which Arraya is now a participant in, has abundant potential for customers. Here's a look at some of the basics of the program, our involvement and what it all means for customers.
What is it?
Microsoft's CSP program is designed to deepen the relationship between Microsoft partners and their customers by enabling partners to bundle their own offerings and services with Microsoft's cloud portfolio. They can then sell that total package to their customers.
As a CSP partner, Arraya takes ownership over the entirety of the customer relationship, leveraging the full slate of our technical and business service capabilities (providing customers with billing services, product support, etc.).
Currently, Arraya sells and supports Microsoft Office 365 programs, the Enterprise Mobility Suite, Azure and Dynamics CRM Online as part of the CSP program with other product options in the works.
What does CSP mean for me?
Customers can expect plenty of advantages thanks to CSP, such as:
A more fully-realized relationship – Under the old set up, customers may not have heard from LARs for several years. Then, at some point a representative would turn up and say it was time to renew their licensing. This makes for a very impersonal relationship and it turns the LAR into a constant bearer of bad news, e.g., "It's time to spend more money." As part of CSP, the overall relationship becomes much more of partnership. A provider like Arraya will always be close at hand, ready to implement the solution quickly, work with the customer to solve problems and recommend upgrades and improvements when they make the most sense for the customer.
More attractive payment terms – Previously, customers found themselves bound by long-standing enterprise agreements with LARs. As part of CSP, those have been replaced by a much more customer-friendly, pay-as-you-go option with companies like Arraya. Not only can customers sign up for the Microsoft services they want without also signing up for a costly agreement, they'll also receive a lone bill for their cloud and support services, which – in many cases – counts towards their OPEX budget.
Better, more focused support – Many LARs took a high-level approach to support. They weren't always interested in or prepared to address support issues, particularly for end-users. By contrast, implementation services and support are part of Arraya's DNA. We are a full-service consulting and managed services organization committed to maximizing the value of IT investments. It is our personalized, detailed service approach, along with our knowledge and experience deploying Microsoft cloud solutions that sets us apart from license resellers.
Learn more about Arraya's Microsoft practice, our involvement with the CSP program and more simply by reaching out to us at http://www.arrayasolutions.com/contact-us/. Also, we can be reached on Twitter @ArrayaSolutions. While there, be sure to click "Follow" to stay in the loop with the latest Arraya news, insights and special offers.