Improving Organizational Health One Step at a Time
I'm not typically one for business books, however, I came across one recently which stood out for me: Patrick Lencioni's "The Advantage." In the book, Lencioni makes the point that the best way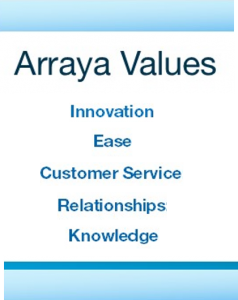 for companies to improve and grow stronger often isn't found externally but rather inside the company itself. Instead of looking for new tools or tricks from outside their four walls, companies should look to their corporate culture. By cultivating and refining this through the rooting out of miscommunication and traditional office politics, companies have the potential to see profound improvements.
As I read through the book, I noticed many of the paths Lencioni suggests taking are ones we already follow here – and they've paid off for us. Earlier this year we were fortunate enough to be named as one of the top workplaces in the Greater Philadelphia area, an honor entirely based on employee voting.
To start with, our company embraces a small, specific set of behavioral ideals. We call them our "Arraya Values." These revolve around our commitment to creating forward-thinking solutions, making our customers' lives easier, delivering superhero service to – and forming lasting relationships with – our customers, and maintaining an expert level of knowledge in our field. Everyone in the organization has made these values a part of how we do our jobs. They're in our minds during every interaction with customers.
Also, as a leadership team we've sought to "over-communicate," as Lencioni calls it, those values to all of our reports and ensure that they do the same with theirs and so on down the line. This takes place in one-on-one meetings, in company-wide events like our town halls, holiday parties, etc. and, as we mentioned, in our day-to-day actions.
That level of communication isn't reserved only for our corporate values either. We pride ourselves on having a variety of different lines of communication connecting our company. This allows employees to get their Arraya news and updates in-person, in-print or digitally. Our employees are always on the go and having multiple avenues ensures they can always access the info they need, when they need it, regardless of where they may be working from.
As part of our commitment to open communication we ask that leaders have a simple and consistent method for setting goals and reviewing progress with employees. This means creating and utilizing metrics wherever possible. As an example, let's look at our Marketing team. For every event Arraya holds, our Marketing team tracks open and closed business, the number of new prospect meetings, etc. Basically, they monitor any new business opportunities which stem from an event to see how successful it was. By incorporating metrics and measurables in this way, it gives employees an idea of what the return is on all of their efforts.
Metrics also help leaders set clear and concise expectations. Everyone has to know what's expected of them. Metrics offer a clear road to success. If these expectations are poorly defined, it can lead to missed objectives and frustrated employees.
Another area where we seek to incorporate that clarity is with employee career paths. Having an opportunity to grow in their career and assume new responsibilities is a fantastic motivator for employees. Without this, improving overall satisfaction and the employee experience will be an uphill battle. We encourage employees to get the latest training to further their skills and we support them in those efforts. I'm positive this contributed to Arraya being named as a Best Place to Work. Our employees feel as though they have an opportunity to grow their career here.
We're by no means perfect. We recognize that there's always room for improvement and every member of our team is working together to continue to make Arraya a great place to work. We've even set a metric to let us know whether or not those efforts were worth it: reaching an even higher place on the top workplaces list next year. In the meantime, however, each of us can remain proud of everything we've achieved and the way in which we've achieved it.