Less Downtime, Fewer Defects: Business Benefits of IoT in Manufacturing
How much is unplanned downtime on your production floor going to cost your company? Obviously there are plenty of different factors impacting that figure. One estimate cited by the folks at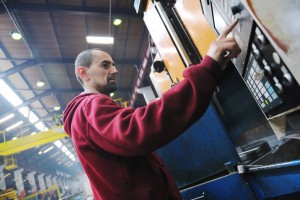 Cisco said the price tag could come to $20,000 per minute. No matter the dollar figure, the consensus will likely be that any losses caused by unplanned downtime are not ideal.
The failure of production machines is right near the top of the list of usual suspects responsible for unplanned downtime. The thing that should be driving manufacturers mad is that often these events are 100% avoidable. All manufacturers need to make that a reality is access to the right kind of data. If manufacturers can view real time updates on asset health, efficiency, etc., they'll be able to proactively spot and service a machine headed for trouble. Instead of suffering through an unexpected outage, manufacturers and their teams can plan for the optimal time to issue fixes, allowing the necessary adjustments to be made to ensure productivity levels remain as unaffected as possible.
Embracing Internet of Things (IoT) technology can make that happen.
What IoT can do for you
Manufacturers are looking to bring Internet-style connectivity to previously unconnected devices on their shop floor to provide them the data they need to stay out in front of issues. Businesses who've done so have experienced powerful, tangible business benefits. Let's start with downtime. Companies who've embraced connected manufacturing or IoT concepts have reduced their unplanned downtime totals by as much as 48% according to Cisco. At the proposed clip of $20,000 a minute, you can bet companies would be thrilled to achieve a near 50% reduction.
The business impact of IoT isn't limited to downtime. There's a laundry list of benefits for modern manufacturers to reap, such as:
a 49% reduction of their defect rate
improving overall equipment effectiveness (OEE) by 16%
a 23% reduction in the new product introduction cycle
increasing inventory turns by 35%
slashing annual energy costs by 18%
Interest in IoT growing among manufacturers
With numbers like that, it's clear the economic impact of IoT is substantial, and many manufacturers are starting to take notice. Increasing connectivity is finding its way near the top of the priorities lists of many in the field. In fact, just over six-in-ten (62%) of manufacturers have said they plan to connect their production equipment by 2020.
It's possible to not only link the machine floor internally, the equipment that makes it up can also be linked back to its makers. This brings a whole new set of eyes with a totally different perspective on that technology into the mix. Connecting the shop floor back to the original equipment manufacturer provides a company with another info source, one which can further improve the lifespan and performance of their technologies.
Interest in IoT doesn't stop with the machines themselves. Manufacturers also hope to introduce connectivity into a host of other areas by 2020. These include:
61% who are hoping to connect employees' disparate mobile devices by 2020
59% who are planning to connect meters (energy, water, etc.) by 2020
56% who are targeting worker's ID badges as a priority to connect by 2020
53% who want connectivity to become a part of their company's finished goods by 2020
Here's how to learn more
Now's the time to begin the process of transforming your company into a truly connected factory with the help of solutions from Cisco. As an industry leader in the IoT and manufacturing spaces, Cisco has a robust technology portfolio tailored to help organizations in the vertical achieve their digital makeover goals. These tools can build a comprehensive and secure IoT infrastructure and forge connections between machines, devices and apps from the supply chain through the plant and then out the door.
Realizing these benefits calls for having a partner like Arraya Solutions in your corner. Arraya is a Cisco Premier Partner, with a deep talent pool covering the entire Cisco technology stack including multiple CCIE certifications. In addition to the knowledge the members of our Cisco Practice bring to the table, they will also work closely with your organization to customize our solutions based on your needs.
If you'd like to learn more about IoT, its impact on manufacturing and what's next, join Arraya and Cisco on Wednesday Dec. 2 at the Sheraton in King of Prussia, PA for The Delaware Valley Manufacturing IoT Summit (register here). It will feature presentations led by Cisco and Arraya geared towards the trials and opportunities manufacturers encounter with IoT technology.
Have a question? Reach out to us at www.arrayasolutions.com/contact-us/. We can also be contacted through our Twitter account, @ArrayaSolutions. There you'll also find our latest company news, our takes on industry hot-buttons and links to special offers.