More Efficient, Less Stressful Data Center Changes – Here's What You Need
The checklist of things which need to be addressed before, during and after a data center relocation or consolidation project goes on and on. Further complicating things is the fact that, since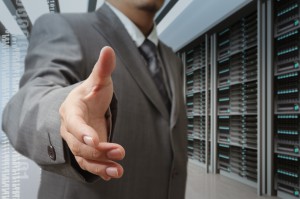 these types of moves aren't a regular occurrence, most IT teams don't have an abundance of experience leading them. If any items aren't checked off, outages and even data loss could occur.
Considering how much is riding on a successful data center project, it's easy to see why they can be a tremendous source of stress. However that doesn't have to be the case. While making major changes to the data center will likely never be something IT looks forward to, it's possible to remove some of the biggest hurdles.
Enter: ServiceNow, the enterprise cloud company. When paired together, three ServiceNow solutions can transform a data center move or consolidation project into a more manageable undertaking. They are Discovery, Change Management and ServiceWatch.
ServiceWatch and Discovery both fall under the umbrella of ServiceNow's IT Operations Management (ITOM) solutions. ITOM builds upon the basic service package offered by ServiceNow, (which is where you'll find Change Management). Each ITOM solution is concerned with managing the provisioning, capacity, performance and availability of the IT Infrastructure. ITOM means faster results for end users, increased productivity for IT and an improved perception of IT from the Executive Leadership team.
Let's take a closer look at each and the role they can play in data center projects.
ServiceNow Discovery
IT must have a strong knowledge of the lay of the land before beginning a data center move or consolidation. Without that, IT team members will be forced to devote valuable time to manually going in and compiling a list of what's there, what's connected to what and so on.
Here's what to do: Discovery scans the corporate network in search of the IP-enabled assets and configuration items that make up the IT infrastructure. It then maps the interdependencies of each and feeds that data into the CMDB. These scans take place on a recurring schedule to ensure the accuracy of the information being stored within the CMDB. This way, when the time comes to get started, IT will already have access to a detailed data center inventory, enabling it to swiftly move on to the project's next steps.
This solution:
Unites an organization's CI and asset tracking data in a single, unified location
Automatically creates relationships and visual maps depicting the connections between different data center elements
Supports custom-built applications
Change Management 
During a data center project, there are going to be systems which need to be powered down or decommissioned, programs which need to be migrated off of, etc. Activities of this scale not only need the proper approval to move forward, they must also be tracked every step of the way.
Here's what to do: Change Management is designed to remove the uncertainty and the anxiety that are often staples of making changes. It adds clarity to the process through a change calendar, dynamic risk and impact calculation and change collision detection. These features can protect IT and business operations from the adverse, unexpected effects of a modification. Instead of fearing what might go wrong, IT can fully embrace changes for the upsides they offer.
This solution:
Automates and streamlines the change approval process via a powerful workflow engine
Provides a more accurate calculation of risk, enabling better decision making through quantitative risk assessments
Prevents escalating project budgets either by backing out ineffective changes or by rolling out a solution to the problem
ServiceWatch 
Nothing exists on an island in business. This is especially true in the case of a project on the scale of a data center move. The decisions made in IT during these projects are invariably going to affect other business groups and the services they provide. However, IT doesn't always have access to the full, business-wide picture before making a change, potentially leading to service disruptions and continuity issues.
Here's how it works: ServiceWatch maps the relationships between IT components and the specific business services they support. It displays that information on dashboards which are updated in real-time. This bolsters service continuity efforts by helping IT see which services could be affected by a change and therefore need to be backed up to prevent downtime or data loss.
This solution:
Extends the capabilities of existing ServiceNow CMDB deployments
Makes IT more service-aware and puts IT components into the context of the rest of the business
Provides staff with the info to address problems without the need for "war room" scenarios
If you'd like to learn more, contact us at www.arrayasolutions.com/contact-us/ or through Twitter by sending your questions, comments and ideas to @ArrayaSolutions.