One Must-Have Ingredient for a Simple, Secure UC&C Deployment
Larger budgets and the need for better teamwork among employees are going to make Unified Communications & Collaboration (UC&C) solutions a hot topic over the course of the next three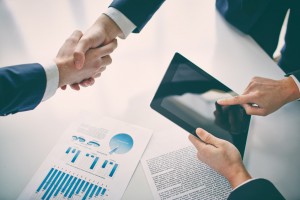 years. Despite the upsides and the fact that the corporate purse strings have been loosened, there are still obstacles IT will need to overcome before those conversations morph into action items.
Roughly 61% of organizations polled in the "2015 Unified Communications & Collaboration" study by IDG Enterprise said they plan to implement or upgrade UC&C solutions such as web, audio and video conferencing services and IP telephony during that three-year window. These projections aren't dependent on organizational size as both enterprise-sized businesses and SMBs are expected to invest in UC&C in the coming years. The growth will be more significant among SMBs as 66% expect to launch a UC&C project within the next three years compared to 56% of those on the enterprise level.
As we mentioned, part of this growth will be driven by increasing budgets. About 33% of organizations in the survey expect to see their UC&C budget trend upwards. The increases won't be overly dramatic but, on average, organizations will have an additional 9% to spend on solving their communication and collaboration challenges.
The other driving force is the gains organizations believe they will make as a result of focusing more closely on UC&C. These include:
Improved employee collaboration (43% of firms)
Increased productivity (42%)
Increased flexibility for employees/a more mobile workforce (33%)
Dealing with UC&C headaches 
Of course, no implementation comes without its share of issues. In the UC&C sphere, the biggest one, despite the budget increases, will still be cost/funding. About 41% of organizations named it as their top challenge. This goes to show that even though they'll have more funds at their disposal, organizations are still going to be conscientious about spend. Rounding out the top three concerns were security and privacy (36%) and the ability to integrate a new solution with an existing infrastructure (33%).
That can be a lot for an organization to undertake on its own, however, a partnership with Arraya can help alleviate the risks, ensuring a much smoother road to achieving full business value from a UC&C deployment.
Arraya works with multiple industry-leading providers of communication and collaboration tools. We are able to use this collected knowledge and know-how to pair a customer with the solution which makes the most sense for its needs. Our team also has experience working with budgets and customers of all sizes. The result is customers get the right solution at the right price.
Those security and implementation concerns are another element which can be lessened through a partnership with Arraya. Our Managed Services function as an extension of the onsite IT team, covering areas in which it may not have the right resources or expertise. The Managed Services team has compiled years of experience working with communication & collaboration solutions and stands ready to step in and take the lead on the initial deployment of a UC&C solution. This saves customers from having to deal with the anxiety that comes with trying to get a new UC&C solution to play nicely with their pre-existing IT environment.
Our Managed Services team will also work tirelessly to ensure a customer's UC&C solution is updated and fully-secured against external attack. Unpatched or outdated technology can give cyber crooks an unlocked back door into a network. By ensuring systems stay current, Arraya can help lay the groundwork to keep those who are up to no good at bay.
Interested in learning more about Managed Services? Visit us at http://www.arrayasolutions.com/service/managed-services/ to access case studies and data sheets detailing the extent of our Managed Services capabilities. Then, click on the Contact Us link to schedule a meeting with one of our Account Executives to start a conversation.
Also, follow us on Twitter, @ArrayaSolutions to gain access to company news, special offers and the latest industry updates.