Prepping for the Leap Second: What You Need to Do
Ever feel like Tuesday is the longest day of your week? Well, Tuesday June 30 won't just feel like the longest day of your week, it actually will be.  By one second. It may not sound like much, but that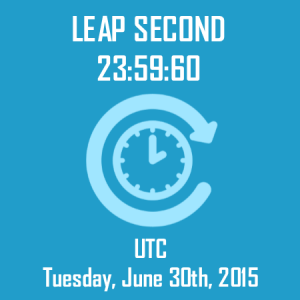 one measly little second could be the source of some sizeable headaches for IT teams – and time is running out for them to prepare.
Irregularities in the Earth's rotation can cause a difference in astronomical and atomic time to occur. When that difference exceeds .9 of a second, the International Earth Rotation & Reference Systems Service will add or subtract a second to/from Coordinated Universal Time (UTC) to correct the alignment. These events, called "leap seconds," don't occur often but they're not exceedingly rare either. The one scheduled to take place on June 30 is the 26th leap second to occur since 1972. The most recent leap seconds were added in 2008 and 2012.
Essentially, the UTC will look like this on June 30: 23h 59m 59s … 23h 59m 60s … July 1, 0h 0m 0s.
How could this create problems for IT? Computer systems and technology which rely on the UTC don't always take the adjustment in stride. This could lead to anything from minor issues (time won't update correctly) to more severe issues like crashes and reboots.
Breeze through the leap second
Here's a look at how some of Arraya's strategic partners could be affected by the leap second as well as what can be done to keep everything running smoothly at your organization.
Cisco
What could be affected: Nexus 1Kv, Nexus 5K, Nexus 7K, Unified Computing System, some ISR routers and some Unified Collaboration applications.
What to do: Cisco is providing system patches for all affected systems to customers with active and valid service contracts. Also, Cisco recommends ensuring appropriate deployment of Network Time Protocol (NTP) sources and strata, consistency of NTP versions within the network, and management of common time-driven alarms.
Click here to learn more or to see full list of affected Cisco products.
EMC
What could be affected: Avamar, VPLEX, VPLEX-VE, Celerra Barossa (6.x) releases, VNX1 (Unified), more.
What to do: Workarounds have been developed for both Avamar and VPLEX systems. For Celerra, EMC suggests disabling NTP before the Leap Second occurs and re-enabling it after the event has passed. For VNX1 there are two options: disable NTP on the Control Station prior to the Leap Second change and re-enable it after the change or upgrade to the latest VNX1 OE revision prior to June 30.
Click here to learn more or to see the full list of affected EMC products.
VMware
What could be affected: vCenter Server Appliance, vSphere Replication Appliance, VMware vCenter Operations Manager, vRealize Operations Manager Appliance, and more.
What to do: For vCenter Server Appliances, upgrade to 5.0 U2, 5.1 U1a or later. For vSphere Replication, upgrade to 6.0.0.1 or later. For VMware vCenter Operations Manager and vRealize Operations Manager Appliance, slew mode for NTP must be enabled.
Click here to learn more or see the full list of affected VMware products.
That's a lot to consider, however the good news is you don't need to take it on alone. Arraya's team of experts is available to assist with the triage and remediation of your environment. Reach out to your Account Executive today to schedule an appointment so you will be covered well in advance of the June 30 leap second.
Visit us at www.ArrayaSolutions.com to learn more about our wealth of experience with multiple industry-leading vendors. Don't forget to follow us on Twitter, @ArrayaSolutions, to keep up with all of the latest company and tech industry news and opinions.