Talking Tech with Non-Techies
The road to selling a new piece of technology used to lead through the CIO and IT. After all, they were the ones with the tech knowledge and the decision-making power. Recent trends such as Cloud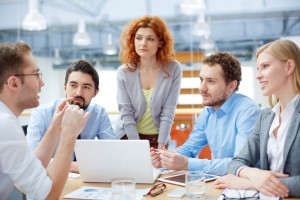 migrations and increased workforce mobility have altered that landscape and those conversations fairly dramatically. Instead of only talking to techies about tech, we find ourselves talking tech with folks on the business side, talking business to folks on the tech side and everything in between.
I came across a study recently which discussed the distributed nature of the present day IT budget. The study, CompTIA's "Building Digital Organizations," analyzed IT spend and it showed:
IT owns the entire tech budget in just 19% of organizations
In 33% of companies, departments outside IT have discretionary funds at their disposal to be used for tech purchases
The tech budget is split evenly between IT and other functions in 20% of companies
Business functions control the majority of the technology budget in 9% of instances
The business side is in complete control of the technology budget in 19% of organizations
Gartner's predictions are strongly indicative of the same trends. According to Gartner, by 2017, only 50% of total IT spend will be under the control of the IT department.
Finance; Marketing; Sales; HR, they're all playing a sizable role when it comes to making technology decisions. That can be a lot of different voices to hear out and different perspectives to consider.
Even though it's being split up amongst all of those functions, the budget itself isn't becoming more restricted. On average, only 5% of respondents in CompTIA's study said the technology budget for the IT function was decreasing. In terms of the business function, only 2% said the amount other departments could spend on technology was shrinking. In both cases, the rest of respondents saw the budget either growing or maintaining its current size.
IT's role in business
Just because IT may not have total authority over the technology budget, that doesn't mean its influence is diminishing. Instead of acting solely as a keeper of the infrastructure, modern IT is now being asked to serve as an enabler of business success. For evidence of this, look no further than the same CompTIA study. In it, a majority (57%) of IT respondents reported seeing their technology objectives become more business focused.
As the expectations placed on IT change, so must the role of the CIO. In the 2015 State of the CIO study, 85% of CIOs said their role was becoming more important to the business itself. This figure towers over the 20% who felt they were being sidelined or marginalized.
Considering how important technology has become to an organization's success, it's clear this trend won't be changing course any time soon. After all, even if all of the other pieces are there, without a reliable, powerful and scalable IT environment, a company is going to struggle to meet its objectives.
What this means for Arraya
At Arraya, we've responded to these trends in a couple of ways, including exploring new offerings or initiatives. For example, we're rolling out a new solution which is geared specifically towards the business and operations end. This offering can eliminate most of the headaches associated with the merger and acquisition (M&A) process. It's purpose-built to simplify the complex and multifaceted world of M&A by allowing organizations to leverage Arraya's wealth of technical knowledge and experience in the arena of bringing two separate technology environments together under the same banner.
We've always tailored the solutions we architect for customers to meet their unique needs. However, we also must be prepared to tailor our messaging and the conversations we have which surround those solutions. They need to exist in contexts that are meaningful to each of the varied audiences we address inside the companies we work with.
Personally, I never want Arraya to be a company that shies away from new trends and, by extension, new audiences. Thriving in this new landscape requires us, as a company, to be even more flexible in our thought-process and our approach. The good news is, I believe the collection of talent we've assembled is absolutely capable of rising to that challenge.