What You Need to Know About the New Microsoft/Red Hat Deal
Put the rumors to bed because last week it finally became official: Red Hat Enterprise Linux (RHEL) is coming to Azure. Microsoft and Red Hat, a pair of former rivals, reached a long-buzzed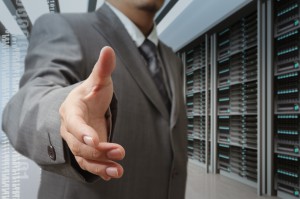 about agreement to make RHEL, Red Hat's enterprise distribution of Linux, available on Microsoft's Azure cloud platform.
This move is being viewed by the tech industry as a major win for both companies. For Microsoft, Azure was already a leading cross-platform enterprise cloud solution. However, it lacked the RHEL compatibility of many of its top competitors. By bringing RHEL into the fold, Microsoft is able to ensure Azure can meet the needs of an even larger segment of enterprises.
As for Red Hat, it benefits by adding another industry leader to its list of supported hosts. On top of that, RHEL won't just be available on Azure, mind you. RHEL has been designated as the "preferred" Linux option for enterprise computing on Azure, giving it a clear place of prominence among the rest of Microsoft's Linux partners.
How customers will benefit from this partnership
This is all well and good, but what does the deal mean for customers? Here's a look at three of the top takeaways from the move, as highlighted by Microsoft and Red Hat themselves:
Red Hat solutions will become Azure natives. Customers will soon be able to run their RHEL workloads, including apps, images and virtual machines, directly on Azure. Meanwhile, Azure subscribers will gain access to the full slate of apps offered by Red Hat, such as Red Hat JBoss Enterprise Application Platform, Red Hat JBoss Web Server, and more.
Consistent workload management throughout the hybrid cloud. Red Hat's CloudForms customers will have the option to manage RHEL workloads on either Hyper-V or Azure. This ability comes about as the result of new interoperability between Microsoft's Azure and System Center Virtual Machine Manager and CloudForms. It's believed that the option to manage Azure workloads directly from CloudForms will be added in the coming months.
Improved app development ability. Bringing .NET to Red Hat technologies like RHEL and OpenShift provides developers with a common toolset and language, which will work across both Windows and Linux. This interoperability could very well help to power the next wave of app developments.
Learn more about the Microsoft/Red Hat pact  
These benefits and more will be available to customers in the coming weeks and months as the partnership is revved up.
Still have questions about how the Microsoft/Red Hat agreement will impact you? Or, are you interested in learning more about bringing Azure to your organization so you can begin to take advantage of the benefits listed above and others stemming from this new partnership?
Arraya Solutions' Microsoft Practice is ready to help. Our team has won the Microsoft Mid-Atlantic Area "Rising Star" award in 2014 and 2015 and has a wealth of enterprise-level knowledge and experience. That know-how and experience has been boiled down into a proven methodology used to deliver high value solutions to our clients. Our team can walk you through the nuances of what to expect from this deal, work with you to decide whether or not an Azure deployment is the right fit for your organization, take the lead in rolling it out or simply offer support and insight every step of the way.
If you'd like to begin the conversation, visit us at www.arrayasolutions.com/contact-us/. We can also be found on Twitter, @ArrayaSolutions. Be sure to follow us so you can stay up to date with all of our latest company news, blog posts and special offers.