15 of the Coolest New Features in Office 365
A little while back, we put up a post outlining why the inclusion of voice in the new Office 365 E5 SKU should push the license package to the top of your list of IT New Year's Resolutions. As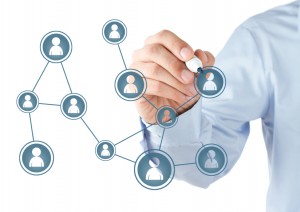 exciting as the inclusion of voice is – it isn't the only reason you should be considering Office 365 E5. There are a variety of other features in Office 365 E5 which can help businesses power through plateaus and reach new levels of success in 2016 and beyond.
Let's take a closer look at what else is included in the Office 365 E5 SKU and what these features can do for your organization.
Delve Analytics 
On its own, Microsoft's Delve gives employees an easy way to see what documents the people they interact with most are working on. It leverages machine learning to figure out an employee's true team, not the one from their org chart. Delve Analytics takes that concept and uses the same machine learning to compile and track the data associated with it. It essentially gives managers a visual representation of how their employees work and collaborate with others.
Delve Analytics:
provides users and managers the chance to see which employees or departments work most effectively together and which ones need improvement
uses dashboards and interactive reports to display insights on time usage, helping employees identify inefficiencies and make the necessary corrections
increases the speed at which users can analyze and understand data surrounding how they do their jobs
Power BI
Power BI is a business analytics tool that allows users to better digest data pulled from across a variety of mediums. It takes that data and translates it into compelling visuals, reports, and dashboards. This allows users to gain greater insight into just how these different data sets relate to each other and the business in general.
Power BI:
enables companies to make better and more efficient use of the data sets they're already generating
hooks into data sources such as SQL, Excel, Hadoop, Mail Chimp, Google Analytics, and many more to build a well-rounded picture of your organization
delivers data to users via live dashboards so that they have the most accurate, updated version of the figures at their disposal
The most amazing thing is that the dashboards aren't difficult to build. Our Microsoft Practice Manager has put together a video in Office Mix to show how easy it is.
Customer Lockbox
For some customers, there's an acute fear of losing control over their data when they entrust it to the cloud. The Customer Lockbox feature is designed to put those fears to rest once and for all. It does this by injecting customers into the security process, keeping them in full control over their own data regardless of where it may live.
Customer Lockbox:
gives customers the ability to limit who can access their data through the use of pre-assigned, two-factor authentication steps
increases transparency in terms of who is doing what with data stored in the cloud
improves customer confidence in migrating additional data sets into the cloud
Advanced eDiscovery
Organizations engaged in eDiscovery can find themselves having to sift through mountains of data to find the documents their legal teams want to see. This process can eat up a lot of time as well as resources. However, Microsoft's Advanced eDiscovery tool was built with the goal of reducing the time and money spent conducting eDiscoveries, as well as limiting other challenges which can crop up.
Advanced eDiscovery:
integrates Equivio machine learning capabilities, predictive coding, and text analytics to make it easier to navigate data stockpiles
supports integration with non-Microsoft systems and tools to ensure important documents aren't being missed
responds to user training, allowing it to more efficiently weed out valuable nuggets from large, unstructured data piles
Advanced Threat Protection
Email is one of an organization's most important communication tools – it can also be one of the biggest threats. If users let their guards down, they could easily fall victim to a malware scam. Depending on a user's level of access, a mistake like this could very easily put the entire organization at risk. Advanced Threat Protection from Microsoft works to protect users from known and unknown threats which may be lurking in emails, attachments, links, etc.
Advanced Threat Protection:
can be licensed for specific, high-risk users whose clearance level would be greatly coveted by attackers
sends every email that comes in off to a quarantine area where it's scanned in depth for threats before delivery is completed
sends a stub to end users which enables them to read and act on the text of the email while the attachments and links are vetted for security
Experience the security and reliability of Office 365 E5
If you are on an Office 365 E plan, you can step up to E5, but you may want to enable some other workloads first, like SharePoint, OneDrive, etc. If you own Office 365 E1 or E3 and want some help in figuring out the next step, our award-winning Microsoft team is ready to help. Contact us today to schedule an Office 365 Workload Enablement Workshop.
You can also find us on Twitter @ArrayaSolutions. Follow us to stay updated on all of our latest blogs, special offers, and exclusive events.