An Inside Look at Arraya's Mini Microsoft Ignite Event
Recently, Arraya gave folks who were unable to attend Microsoft's Ignite conference back in September a second chance to immerse themselves in the tech giant's world. Speakers from both Arraya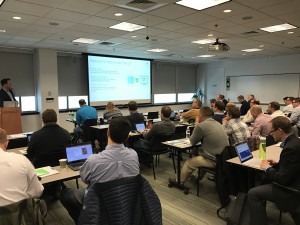 and Microsoft were on hand at Microsoft's Malvern, PA offices to showcase Ignite highlights, upcoming releases, and more. This new event, which was billed as a "Mini Ignite," ended up being anything but as quite a lot was packed into the half-day session.
Matt Sekol, Arraya's Microsoft Practice Manager, kicked off the day with a brief presentation on digital transformation and how technology can be used to let a company innovate within itself and help a business stand out in a crowded marketplace.
"I wanted to encourage today's attendees to think of everything you hear today against the backdrop of this message of digital transformation. It is how you apply these technologies that drive this innovation," Sekol noted.
Following his opening presentation, Sekol turned things over to Jason Kline, another member of Arraya's Microsoft Practice. Kline, who is one of Arraya's Microsoft Cloud Solutions Architects, spent the bulk of his time covering the new security features that can be found in Windows Server 2016. This included discussing how businesses could benefit from features such as Credential Guard, Device Guard, just in time and just enough administration, among other new developments.
In addition to Windows Server 2016, Kline also touched on improvements made to System Center and Azure's Advisor preview. This second item is being rolled into Azure subscriptions to give businesses access to best practices and recommendations for handling Azure workloads. The goal being to help businesses consume Azure more effectively.
After Kline, it was Microsoft's turn at the wheel as they sent three straight speakers to the podium. The first of these was Lee Cox, a Cloud Solution Architect who specializes in developing and delivering cloud architecture with tangible business impacts. Cox's session was devoted to the how and why behind Microsoft's hybrid strategy, focusing specifically on Azure Stack.
"Azure Stack is interesting because it gives users the same experience onsite that they may already be used to from working in Azure," Kline said of Cox's presentation. "It looks and feels like working in the Azure cloud but it lives on prem."
Following Cox was Karl Rautenstrauch, a member of the Azure Global Black Belt team with a focus on Hybrid Storage workloads. Rautenstrauch's session reviewed the ways in which cloud storage can help businesses reduce cost, mitigate risk, and improve time to market. During his presentation, Rautenstrauch laid out how Azure, specifically tools such as Azure Site Recovery, can augment corporate backup and recovery strategies by moving workloads off-prem and into the cloud.
The final Microsoft speaker of the day was Sergey Tsygalnitsky, a Cloud Solution Architect focused on cybersecurity, the impact of digital transformation, and the evolution of cyber threats. Tsygalnitsky's presentation analyzed how modern cybersecurity risks have grown alongside our reliance on technology – and how Microsoft is uniquely positioned to address those risks.
"Traditionally Microsoft hasn't been thought of as a security vendor," Kline said. "However, as Sergey pointed out in his presentation, Microsoft has a full suite of impressive products that are out there changing that perception."
Tsygalnitsky may have been the final Microsoft speaker of the day, but he wasn't the final one overall. Instead, the task of closing out the day went to Sekol, who used his time to cover the importance of collaboration in a modern business environment and how Office 365 has been enhanced to make working together easier for end users to do and for admins to manage.
Here's a quick fly-by of some of these changes:
Sekol explored the new Admin Center, which has been revamped to make new features or common tasks easier to find and access.
Next up were Outlook upgrades, including the simplified ribbon and toolbar, increased platform flexibility, the next iteration of Modern Attachments, and improved calendar-syncing.
Groups and Teams were compared and contrasted, as were the kinds of scenarios that call for one of these toolboxes versus the other.
My Analytics, which analyzes a person's work habits, including emails, meetings, etc., was examined. "This tool sees the behavior patterns in how you work," Sekol said. "That can be surfaced back to you so you can make the most out of your workday."
Catch up on the latest news and releases from Microsoft
Say you missed Ignite in September and missed our (not-so) Mini Ignite. It's entirely possible as Ignite was sold out and seats at Mini Ignite were in such high-demand that the event had to be wait-listed. Does that mean you're out of luck if you still want a guided tour through everything that's going on with Microsoft lately?
Not at all. First, click here to take a look at the presentations from Ignite that inspired our team as they put together the agenda for Mini Ignite. Next, email us at MSsales@arrayasolutions.com or visit us at www.arrayasolutions.com/contact-us/ to start a dialogue with the members of our Microsoft Practice.
Of course, our team can also be reached through social media: Twitter, LinkedIn, and Facebook. Be sure to follow us to stay in the know about our upcoming events, our latest blogs, and our take on some of the industry's biggest hot button topics.