Arraya and Office 365 Hit the Open Road this Summer
Arraya will hit the road this Summer, bringing an immersive Office 365 experience to businesses across Pennsylvania and South Jersey. This trip, which we've dubbed our Office 365 Test Drive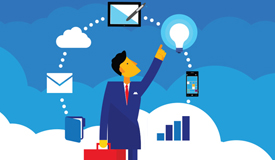 Roadshow, kicks off on June 14th in Cherry Hill, NJ and will run throughout the month of June. At each stop on the tour, we'll give attendees a chance to explore the value of Office 365 for themselves through hands-on demos and role-playing.
Some people may hear "Office 365 Test Drive" and think, "Oh that sounds like something for IT." However, that's not the case. While IT staffers are welcome to attend, these sessions are more about the Office 365 end user experience. They're morning-long sessions designed to allow people who aren't familiar with Microsoft's collaboration story to submerse themselves in the platform. Everyone from frontline end users through management levels, spanning departments such as finance, HR, sales, and more, can come out and gain a better grasp of what's possible with Office 365.
Besides folks who aren't familiar with Office 365, who else can benefit from attending? End users whose companies have Office 365 licenses, but who haven't begun utilizing them – either fully or at all. By learning new ways to utilize Office 365 to help them do their jobs, these attendees can return to their organization and jumpstart the conversation around more efficient Office 365 consumption.
What an Office 365 Test Drive looks like
Attendees who come to one of the stops of our Office 365 Test Drive Roadshow shouldn't expect a half-day of lectures. These sessions are extremely hands-on, allowing attendees to explore an Office 365 demo environment at their own pace, using a touchscreen device. Attendees will problem-solve their way through multiple real life scenarios presented by a knowledgeable and experienced facilitator from the Arraya Microsoft team.
Featured lessons will include:
Boosting productivity at work and on the go
Building a more collaborative workplace with OneDrive, SharePoint, Yammer, and Skype for Business
Gaining access to the Office 365 data and analytics needed to maximize ROI
The sessions – which run from 9:30 am to 1:00 pm – are limited to just ten people. The small-group setting ensures attendees have access to the amount of facetime with our facilitator they need to have a productive and worthwhile session.
Join us for our Office 365 Test Drive Roadshow
Ready to experience a Test Drive for yourself? Here's a look at where the Office 365 Test Drive Roadshow will be stopping this summer:
Date
Location
Address
June 14
Holiday Inn Cherry Hill
Cherry Hill, NJ
June 16
The Hotel Hershey
Hershey, PA
June 22
Holiday Inn &
Conference Center
Breinigsville, PA
June 28
Courtyard Marriott Pittsburgh Downtown
Pittsburgh, PA
Spaces are filling up fast. CLICK HERE to reserve yours – and, while seats remain, one or two for your team – today!
Have a question for our Microsoft team? Reach them directly at mssales@arrayasolutions.com. They're also available via our social media pages: Twitter, Facebook, and LinkedIn.