CMX Cloud: What Do Visitors Want & Where Are They Going?
Want more insight into the way people move throughout your facility? What about a way to increase the level of engagement between visitors and your organization? If either of those objectives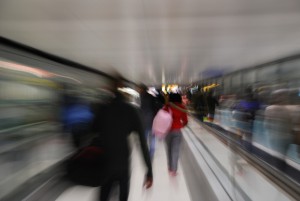 are on your radar, then Cisco's Connected Mobile Experiences (CMX) Cloud should be there as well. CMX Cloud makes use of the wireless infrastructure you already have to bring your organization and guests closer together.
CMX Cloud is the "as-a-service" version of Cisco's CMX 10.2 software. This cloud-based solution automatically detects visitors by way of their wireless-enabled devices as they come within range of Cisco access points. Once it identifies a visitor, the access point pushes that data to CMX Cloud, which then translates it into a visual interface. From there, the organization can monitor visitors' tendencies and reach out to them with personalized offers and information.
Still unsure whether CMX Cloud is something that could benefit your organization? Let's dive in and explore it further.
Building stronger relationships with guests
CMX Cloud can be divided into three actions:
Detect – This is the first step in the process. As described above, it occurs as a visitor approaches a business' site. If they're carrying a device which emits a Wi-Fi or Bluetooth low energy signal, it will alert the Cisco access point to the user's presence, moving things on to the next step.
Connect – Once a visitor has been detected, they will be offered the chance to connect to the business' wireless network. Should they decide to connect, they can do so through a customized access portal. This portal can be adjusted to reflect the branding most relevant to a visitor's location – helpful in the event of multiple tenants sharing a building. CMX Cloud's drag and drop functionality makes it so no coding experience is needed to design the portal.
Engage – After a visitor has logged in through the portal, that's when the real work of relationship-building can begin. Organizations are able to direct context-aware experiences to connected visitors. This can include things like special offers tailored to a visitor's history or which are based on his or her location within a facility.
Running alongside (and in some case, powering) those three activities is one additional operation: CMX Cloud's Analytics. This feature uses the customer's device to determine who they are, where they are, where they go, and their history with an organization. It executes this in real time to shed light on visitor habits, allowing the organization to make adjustments to logistical features such as staffing or marketing to ensure peak efficiency.
A lone Cisco access point is all that's required to take advantage of some of these features. However, gaining access to CMX Cloud's full location tracking capabilities requires a wireless environment that was designed with that in mind. This includes access points located throughout the perimeter of the facility.
Free trial: See what CMX Cloud can do for you
Think the data and connectivity of CMX Cloud could benefit your business? Cisco is willing to let you try it free for 60 days to see its value live. Since it's cloud-based, there are no onsite tools to deploy if you are running the current software. To start your trial, all you need to do is head to https://cmxcisco.com/ and follow the prompts. Once CMX Cloud has been downloaded, you'll need to point your wireless controllers to the CMX Cloud server and you'll be off and running.
If you'd like to learn more about CMX Cloud or wireless architecture in general, our Networking team is ready to help. Visit us at www.arrayasolutions.com/contact-us/ to start a conversation. Or, catch up with us on social media: Twitter, LinkedIn, and Facebook. Be sure to follow us to stay on top of our upcoming special events, as well as our latest blog posts and industry insights.