EMC World 2016 Day 1 Highlights
Day 1 of EMC World 2016 is in the books and the yearly assemblage of IT leaders and EMC aficionados from across the country got off to a flying start. Highlights from Las Vegas included a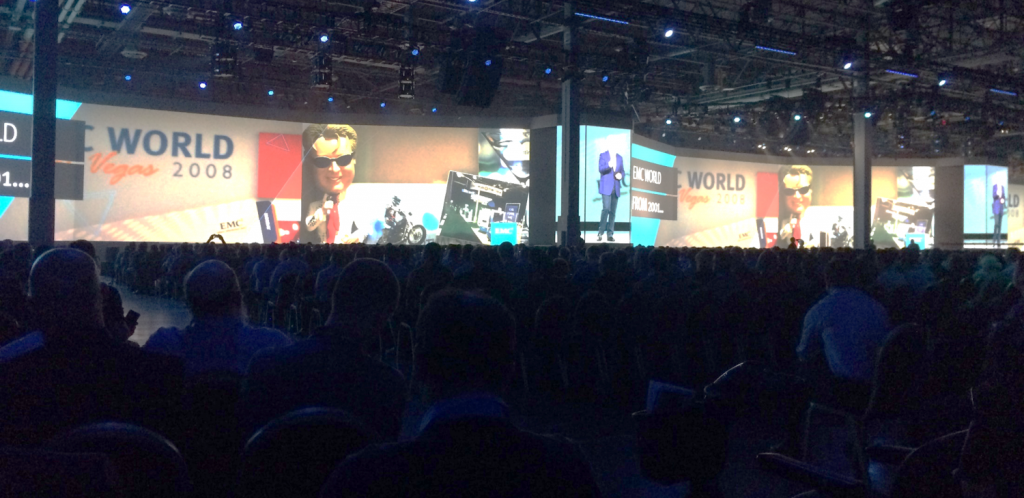 keynote from Super Bowl-winning quarterback Peyton Manning and an introduction of an official name for the combined infrastructure power of Dell and EMC – Dell Technologies. Beyond that, attendees were also treated to a firsthand look at what the future holds for EMC and its industry-leading technology.
Here's a quick rundown of some of the day's biggest announcements.
What's New with VPLEX

6 nines of availability has been achieved.
Cloud integration allows data to move seamlessly between your data center and the cloud, or to exist in both environments simultaneously.
Service level provisioning capabilities allow customers to apply their existing SLO policies with data virtualized behind VPLEX.
Performs unmap command natively when XtremIO is used as back end storage. This eliminates the need to issue unmap commands manually through a host server, reclaiming valuable provisioning space in the process.
Includes a performance monitor tool that can provide up to 30 days of historical data.
Total VPLEX volumes have increased. There are 25% more volumes for local and 275% more for distributed volumes for metro and geo VPLEX deployments.
Now supported with Appsync integration for automated copy management when XtremIO is used as back end storage.

Announcing EMC Unity

A new mid-tier storage solution capable of bringing EMC's concept of 2016 as "the year of all-flash" to businesses of all sizes.
Available in a multitude of configurations, including all-flash, hybrid array, software-defined, and converged configurations.
Boasts a storage capacity of up to 3 PB.
Brings a rich set of unified file and block storage options in a footprint of 2U.

What's New for RecoverPoint

New Gen6 Hardware

60% more horsepower than previous iterations
320MB/s
39000 iops

Module, Field replaceable cards, 1u, 16gb FC, 1Gb or 10Gb iSCSI.
RecoverPoint is available for the new Unity storage solution.
RecoverPoint for VMs, which features:

Integrated management and orchestration
Integration with VAIO for vSphere
Integration with Vvols
VSAN support 6.0 and 6.1
RE-IP for recovery can now be executed by way of the GUI
Journal can be expanded without losing protection history

Additional Day 1 Announcements

Data Domain tiering covering cloud and copy data management.
Integration of Virtustream storage cloud with on premises storage solutions from EMC, creating a best of both worlds storage environment.
MyService360 – EMC's new support and service analytics system.
Learn more from EMC World 2016
These are just some of the stories worth keeping an eye on from EMC World Day 1 – with the promise of even more updates coming as the week progresses. Keep an eye on this blog (and our Twitter account) all week as members of the Arraya Solutions enterprise infrastructure team are onsite and will continue reporting back with all of the latest.
Have a question about what's taking place at EMC World? Contact our team directly HERE, or reach out to us via any of our social media accounts: Twitter, LinkedIn, and Facebook.