EMC's VMAX All-Flash, DSSD D5 News: Everything You Need to Know
This year was supposed to be the Year of the Monkey, however, EMC took things in a different direction with its recent VMAX All-Flash and DSSD D5 announcements. All of sudden, 2016 has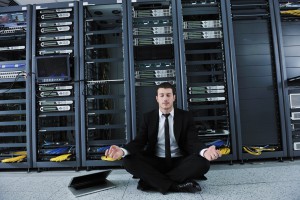 become the Year of All-Flash for Primary Storage as the data storage giant expands its flash portfolio. With the elevation of all-flash, EMC seems ready to relegate traditional disk storage to a support role, entrusting it to handle organizations' bulk and archive needs.
EMC's news revolved around a re-engineered take on VMAX and the launch of a completely new category of flash in "Rack-Scale Flash Storage." At the forefront of this new category is EMC's DSSD D5 architecture. Let's dive-in and explore the features of VMAX and DSSD D5 as well as some possible use cases for each.
New Release #1: VMAX All-Flash
Who Should Be Interested: VMAX All-Flash should interest businesses looking for a solution capable of consolidating storage workloads split between block and file types and/or businesses that also require up to "six-nines" availability and four petabytes of scalable storage capacity.
Features/Benefits:
Includes Write Folding technology to improve the durability of flash while also boosting performance
Scales easily due to V-Brick building blocks – each of which includes one VMAX engine and up to 500 TBs of capacity – that can be combined to increase usable storage
Available in two all-flash models:

EMC VMAX All-Flash 450, which consists of anywhere from one-to-four V-Bricks
EMC VMAX All-Flash 850, which consists of up to eight V-Bricks

VMAX All-Flash 450 and VMAX All-Flash 850 are each offered in two distinct package levels to better address customer needs:

F packages (base level) include:

A streamlined management experience through Unisphere, EMC's unified storage management solution
Thin provisioning to optimize storage space utilization
Support for Virtual Volumes (VVols) and SnapVX
Data protection and copy data management services delivered via AppSync

FX packages (top level) include:

Features standard to F-level packages
Remote replication and disaster recovery provided by EMC's SRDF Suite
At-rest data encryption
EMC's ViPR solution for automating and improving the manageability of storage devices
A secure path to the cloud forged by EMC's solution

Integrates with a wide variety of industry-leading apps, including those from VMware, Microsoft, and more

VMAX All-Flash By the Numbers

Capable of carrying millions of IOPS and read/write workloads
Can clock in at 500 microseconds of latency
Supports 150 GB/s of bandwidth
New Release #2: DSSD D5
Who Should Be Interested: DSSD D5 is perfect for businesses in need of top-flight performance and latency to support either traditional projects or cutting-edge endeavors such as big data.
Features/Benefits:
Uses NVMe-driven connections and PCIe networking to meet the elite performance levels today's businesses demand: latency as low as 100 microseconds, 100 GB/s of bandwidth, and IOPS of 10 million in a 5U system
Shrinks data center footprints and TCO by providing up to 100 TB of usable capacity in a lone 5U chassis
Increases application uptime by way of features such as dual-ported client cards, dual H/A controllers, redundant components, and more
Multiple connectivity options (Flood Direct Memory APIs, blocker drivers, etc.) allow a range of applications to benefit from the speed and performance boosts of DSSD D5
Performance increases enable businesses to expand their horizons, making real time analytics and applications possible and highly-complex problems solvable
Boosts speeds for even the most data-intensive processes by up to 10X compared with competitors in the flash arena
Are VMAX and DSSD D5 right for you?
Ready to celebrate the "Year of All-Flash" by making the move to flash as your primary storage option? Or would you like to talk more about these and other EMC storage solutions to determine which path is the right direction for your company? Click HERE to connect with our highly-skilled and knowledgeable EMC team members. They can answer your questions and work with you to decide on the best course of action.
Also, our team can be reached directly through any of our social media accounts – Twitter, LinkedIn, and Facebook. Be sure to follow us on each to keep up with our latest blog posts, special events, and industry insights.