What Microsoft's New Azure Update Can Do For Your VMware VMs
Microsoft just made protecting VMware virtual machines (VMs) in the Azure cloud as seamless as possible – and it did so while lowering cost of ownership and improving manageability. Those are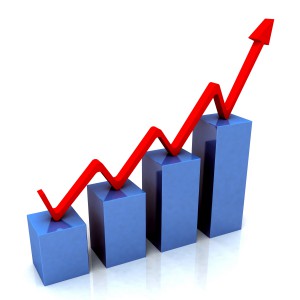 some of the takeaways from a recent announcement by the tech giant concerning the enhanced VMware-to-Azure functionality that has come to Azure Site Recovery (ASR). The new features should make ASR even more appealing to businesses in need of a reliable disaster recovery (DR) strategy or those who are looking to reduce DR spend without sacrificing performance.
This update has been in private preview since October 2015. Since that time, Microsoft has been working to incorporate user feedback to further hone ASR for VMware. Now that it's finally available for mass-consumption, let's focus on four new capabilities we believe are the most significant:
No constantly-running IaaS components/appliances. Azure compute resources are only utilized in two specific situations: in the event of a failover or during a migration to Azure. The same goes for VMs provisioning. As for app data, it's replicated securely and directly to a customer's Azure storage. This arrangement is key to keeping the cost-of-ownership down.
Simplicity matched with scalability. On-prem components are tied together in a MSI-based unified setup, decreasing the process of replicating to Azure to a few measly steps. This eliminates much of the hassle often associated with replication solutions. As for growth, the solution's scale-out mode extends on-going protection and replication across multiple high-churn workloads.
Non-disruptive recovery testing. ASR provides near-immediate VM failover testing, a feature that won't interfere with on-going replication or production workloads. This gives IT some much-needed peace of mind that, should something go wrong, ASR will perform exactly as expected.
ASR-integrated failback. VMs are replicated back to on-prem ESXi environment. Then, they can be set to failback to either their original location, or an alternate, once an issue has been properly addressed. This allows IT to gradually step operations back to normal following an IT incident.
Cheat sheet for Azure VMware upgrades
Those are four main enhancements, but they're not the only changes coming as part of this VMware-to-Azure upgrade. Luckily, Microsoft provided this high-level, "cheat sheet" to help businesses get a better look at all of the new features.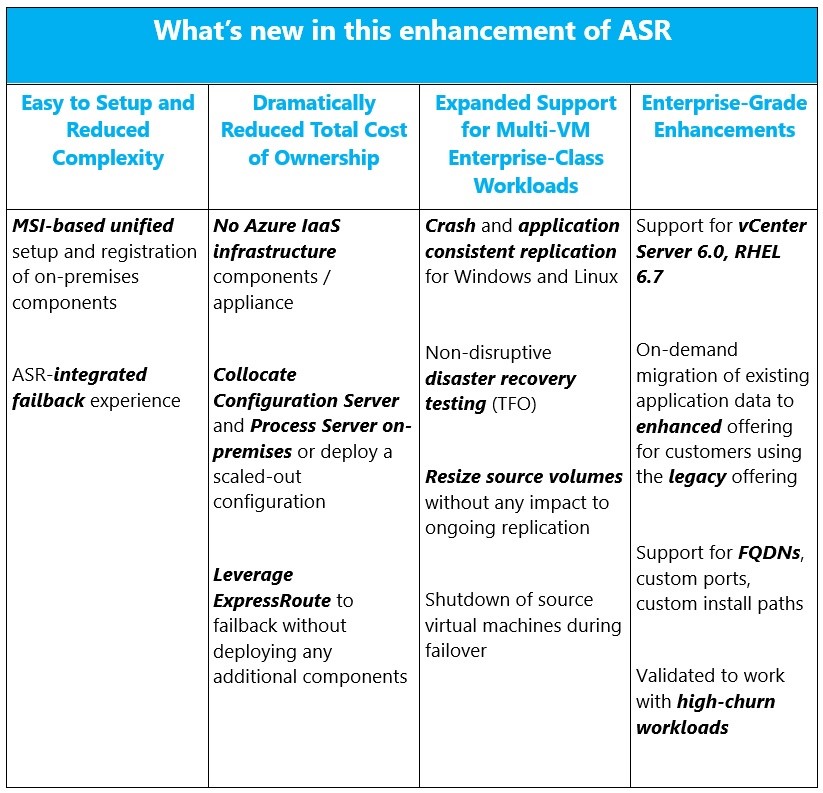 Courtesy of Microsoft
ASR gives companies a flexible path to do DR in the cloud. It eliminates added expenses and management complexities of traditional DR strategies, which can involve multiple data centers. By sharpening ASR's capabilities around VMware VMs, Microsoft showed a willingness to extend these benefits and first-class protection to virtualization solutions outside of its own Hyper-V.
Have questions about what this announcement means for your company? Want to learn more about Microsoft's ASR and its VMware enhancements? You can start a conversation with our Microsoft team today by clicking HERE. The knowledge and skill of our team members spans the entirety of the Microsoft product stack, something that has helped Arraya twice earn Microsoft's Rising Star award for our region.
Our team can also be reached through social media. Arraya can be found on Twitter, Facebook, and LinkedIn. While you're there, be sure to click the "follow" or "like" button to keep up with our latest blogs, special events, and company news.