Recapping Arraya's 2016 Tech Summit
For the second straight year, IT professionals from across the Mid-Atlantic region converged in King of Prussia, PA for the Arraya Solutions Tech Summit. This daylong event was modeled on the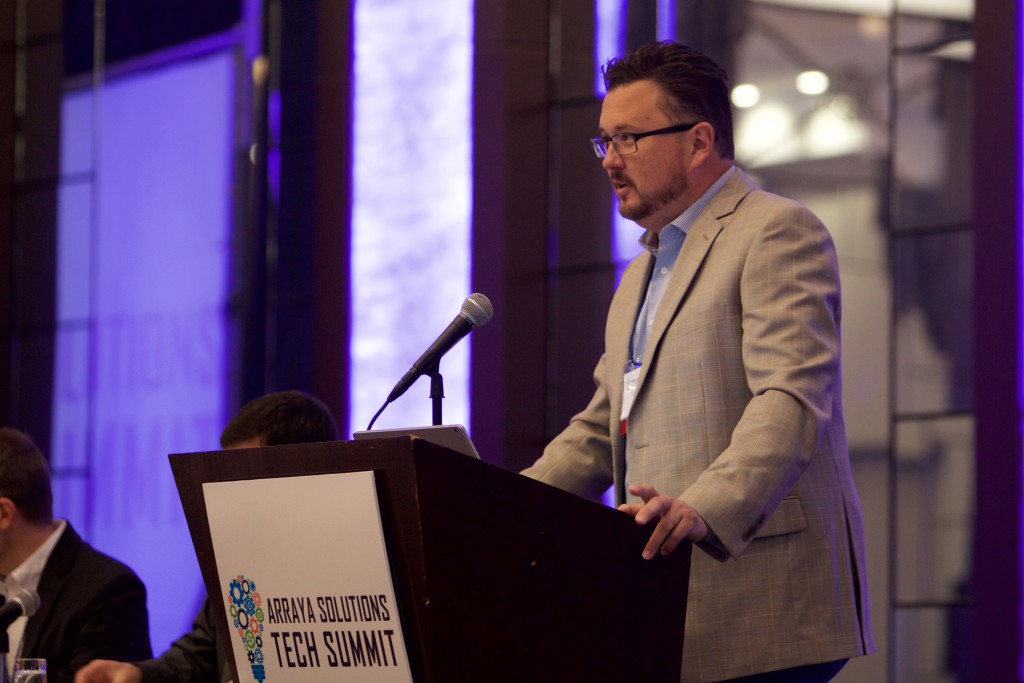 format of last year's debut Tech Summit, but like any good sequel, it upped the ante in terms of scale. This year's event packed in 25 courses covering today's most pressing IT concerns, such as cloud, security, and mobility. Registration for the event also grew, going up roughly 30% from the previous year.
Just as with last year's event, the 2016 Tech Summit was held at the Sheraton Valley Forge in King of Prussia, PA. Arraya CTO David Bakker kicked off the festivities with a keynote on the present and future of the cloud, for Arraya and our customers. In the keynote, he discussed how the cloud has helped organizations focus on their core business by pivoting them away from monolithic IT deployments and over to more versatile hyper converged and hybrid cloud deployments.
Bakker also spent time on how cloud technology can go hand-in-hand with traditional infrastructure. "What we're seeing is businesses buying infrastructure to support their cloud initiatives," he said. "They're looking to more modular, flexible solutions."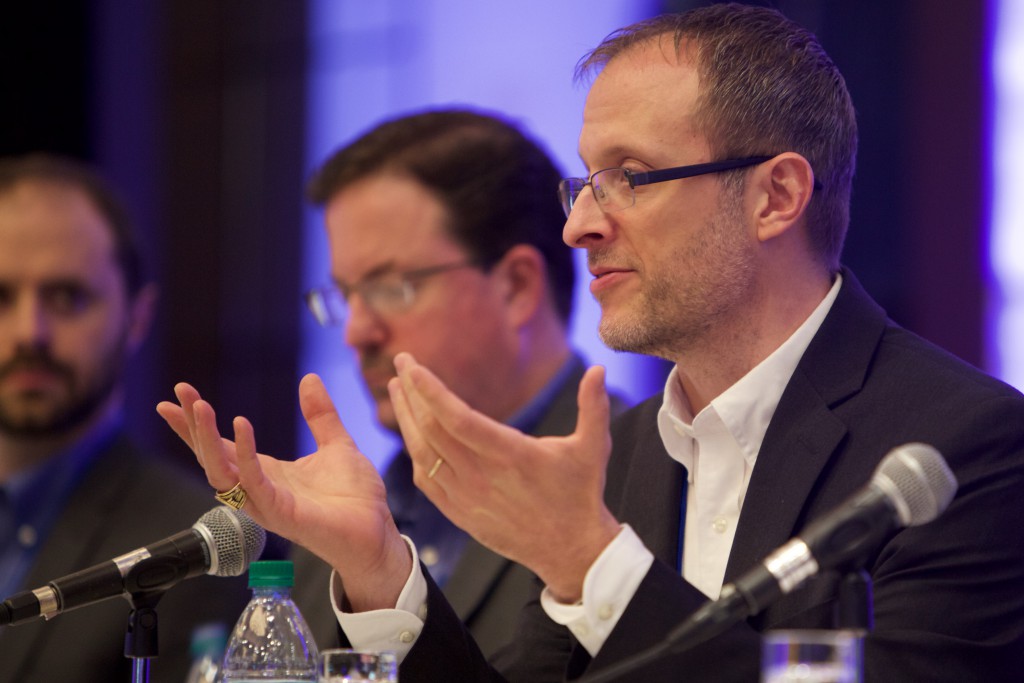 Following his keynote, Bakker introduced members of Arraya's technical leadership team for a roundtable on the current state of IT. This panel consisted of Matt Sekol, (Microsoft Practice Manager), Doug Guth (Cisco Practice Manager), Ron Longley (Data Management Practice Manager), Tadd Williams (Microsoft Collaboration Solutions Architect), and Dan Clarke (Senior Solutions Architect). Topics covered during the panel included the right way for businesses to begin their cloud journeys, today's biggest security threats, balancing end user mobility with security, and exploring the modern data center.
Once the panel discussion wrapped, it was time for the day's main attraction – or attractions – to begin. This year's 25 breakout sessions were divvied up among five conference rooms. Almost every one of these courses was designed and presented by a member (or members) of Arraya's industry-leading team of IT experts.
A number of the most popular sessions, as ranked by Tech Summit attendees prior to the event, repeated during the day. This allowed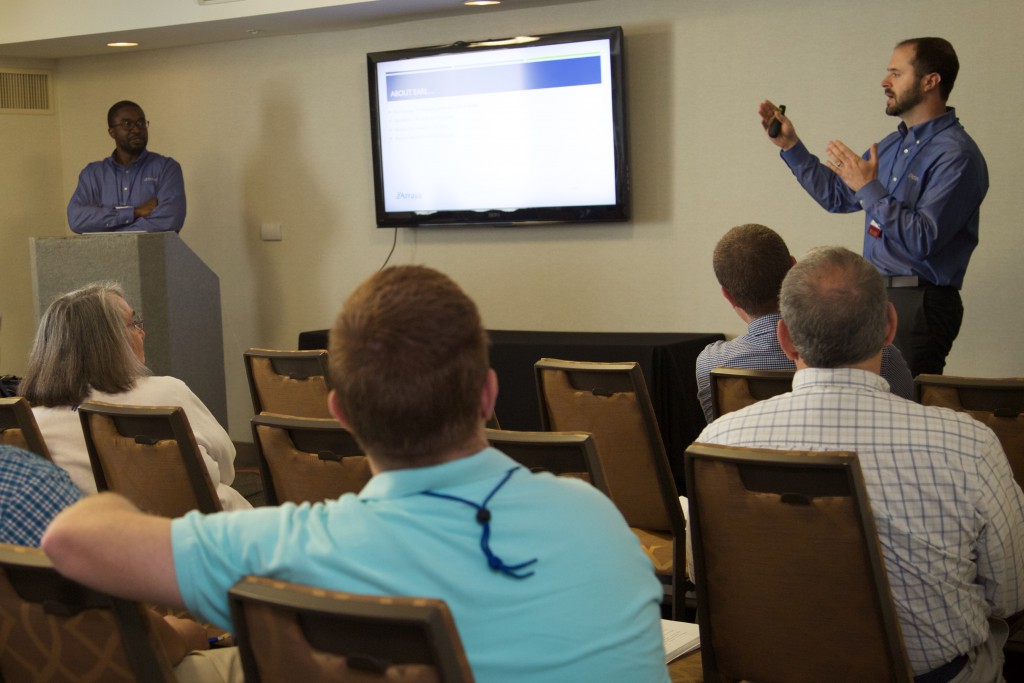 people more opportunities to catch the classes they were most interested in attending. Among the most popular were sessions on virtual and cloud networking, flash storage, Azure backup and site recovery, Cisco's Rapid Threat Containment, and Office 365.
"We designed the Tech Summit sessions using our team's tech knowledge coupled with the hundreds of meetings they take to support our customers," Bakker said. "The Tech Summit itself was born out of a desire to give our people, who we believe make up the region's strongest technology team, a chance to share their know-how and enthusiasm with IT professionals from across our region."
There was one session not presented by Arraya. Steve Craft, a Cloud Solutions Architect for Microsoft, presented a session entitled "How to Unlock Your Business' Potential and Thrive in the Cloud." Arraya specially invited Craft to lead the session on the growth, evolution, and use cases of Microsoft Azure because of his extensive knowledge of and experience with cloud technology.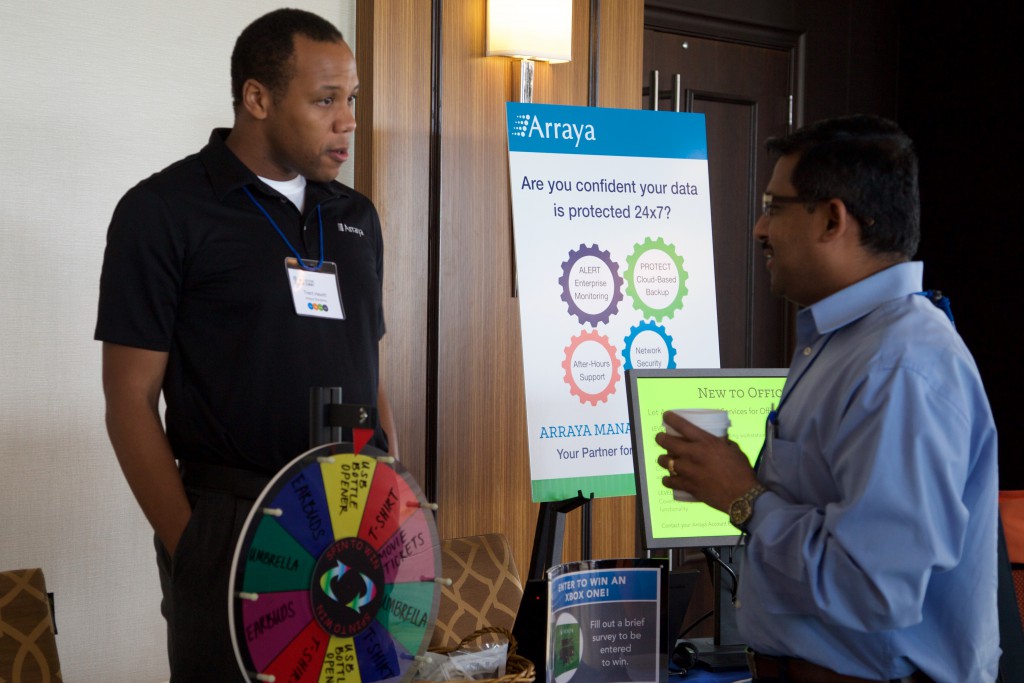 The 2016 Tech Summit capped off with a cocktail reception during which attendees had the chance to enjoy food and drinks, reflect on the day's sessions, and follow-up with presenters. The
cocktail reception also included a raffle for an Xbox One. All day long, attendees were encouraged to visit the Arraya Managed Services table and fill out a brief survey on network security. Doing so landed them in the Xbox raffle. The big winner was Mike Elkins from Cerner Health Systems.
"I'm blown away by the response to the Tech Summit and how much this event has grown in only two years," Bakker said. "With the continued efforts of our outstanding team, and the support of leaders such as Microsoft, Cisco, EMC, VMware, VCE, and CEI, I truly believe the sky is the limit for the Tech Summit. For techs, by techs! See you in 2017!"