Ron Jaworski, Chickie's & Pete's Headline Arraya's 6th Annual Open House
Relationships were a central theme of last week's 6th annual Arraya Solutions Open House and Technology Day. The event, which was once again held at our corporate headquarters, by its very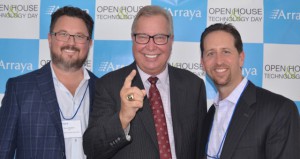 nature is a unique opportunity to build bridges. It brings technology professionals together in a relaxed setting to network with peers, Arraya team members, and representatives from leading IT vendors. However, there seemed to be added emphasis on that point last week, which was reflected in the speeches given by Arraya CEO Dan Lifshutz as well as by special guest, former Philadelphia Eagles quarterback, Ron Jaworski.
The day began with some opening remarks from Lifshutz on the importance of long-term customer relationships and how these have helped Arraya become the company it is today. He also shared his thoughts on the two main factors that must be present for business relationships to flourish across decades: success and trust.
"Obviously if you're doing good work, it's going to draw people back to you," he explained. "The other part, trust, is a little harder. Trust isn't earned by repeatedly nodding and agreeing. It's earned through continued honesty, even in the face of difficult conversations."
Lasting customer relationships have been critical to Arraya's accomplishments over the years, but the same is true for finding consistency with strategic partners.
"Representatives from Microsoft, Dell EMC, Cisco, and VMware are all here," he said. "These are four companies we've worked with a long time. Even as the IT landscape has changed, these companies have stayed right near the top of the industry. That truly is a testament to their own innovative spirit and we're excited to call them our partners."
From there, Lifshutz introduced the day's special guest, the ESPN commentator and championship-winning Eagles quarterback affectionately known as "Jaws." His appearance fit in well with the relationship theme as it marked his second time at an Arraya Open House, making him the event's first-ever two-time special guest.
Jaworski joked about adding that feat to his already-impressive resume before segueing into some behind-the-scenes stories from his days in the NFL. Later in his remarks, Jaworski talked about his experiences as a local businessman and what it takes to be a success. This included coming to work with the expectation of doing something each day to make the company better.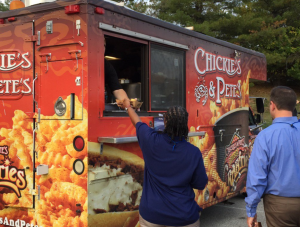 The day's other big special guest has also become a fixture in the Philadelphia sports landscape. Chickie's & Pete's famous crabfries never fail to draw a crowd regardless of event, and the same was true at Arraya's Open House. The franchise's Crabfries Express truck was on hand, dispensing crabfries and chicken fingers to the usual high demand.
Among the other highlights from the Open House were the pair of highly-anticipated giveaways. Attendees who stopped by the Arraya Managed Services table were entered to win a signed Ron Jaworski Eagles jersey. Many entered, but the big winner was Dwight Bazemore, Network Engineer for The Pennsylvania Convention Center.
The other giveaway was designed to get people to take advantage of an Open House first – the official Arraya photo booth. All attendees had to do was stop by the photo booth, grab a prop or two – anything from giant sunglasses to fake moustaches to a few footballs – snap a picture and tweet it out using the #ArrayaOpenHouse hashtag. Doing so entered them into a drawing for a brand new Xbox One S from Microsoft. The prize encouraged a steady stream of tweets and creative pictures, but again, there could be only one winner and it was Ray Lauff, Executive Director for Information Technology for Temple University.
The event's fall theme was complemented in no way by the record-high temperature. It reached 81 degrees in the Greater Philadelphia Area, which seems better suited for spring than fall. Still, complaints from attendees about having to enjoy some beautiful weather with their candy corn were few and far between.
"I'd like to say how proud I am of the company Arraya has become," Lifshutz said near the end of his speech. "This year is shaping up to be a record one, and (Arraya CTO) David Bakker and I recognize we couldn't have gotten to this point without each and every one of you. Whether you're a customer, a partner or an employee, your support and inspiration has enabled us to do what we love, and for that, we thank you."