Sinkholes, Outages, and the True Value of DR as a Service
In 1994, I was a senior in high school. I hadn't really entered the workforce beyond working at the local pool, JCPenney's, and, just before my senior year, I worked to sort archives in the garage of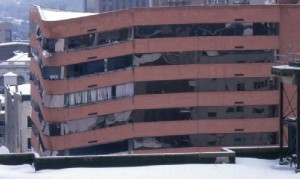 my father's office building. My father owned an actuarial firm in Allentown, located in the Corporate Plaza right downtown.
One snowy morning in February of that year, I woke to the news that the building where his offices were had started falling into a sinkhole. It hadn't fallen yet, but it was sagging and unsafe to enter. That weekend, I remember going over to a nearby building with my dad, his business leaders, and law enforcement, all of them trying to figure out what to do.
For me, that's when disaster recovery was born. At the time, my father had a mix of hard copies and a mainframe as well as computers. They all resided in that location and our entire lives hung in the balance. Luckily, it was determined a team could go in and rescue the equipment and files.
When this disaster struck, the risk was as great as it is today. It wasn't common practice to move your data offsite for protection because who wanted to pay a premium on protecting it? In the subsequent years, we've seen the reasons why this is so critical – terrorist attacks, unusual weather, and malicious hacks have become common place.
Disaster Recovery has evolved over the years. Companies used to ship files and tape backups offsite to companies like Iron Mountain. Recovery times were deemed too slow though and, with the massive growth of data, this became unwieldy to maintain. As network speeds increased, technology like storage replication and co-located data centers (or secondary data centers) became the norm for disaster recovery.
This iteration of disaster recovery isn't without its challenges. They center on cost and the hardware refresh cycle. Consider what this solution looks like. You need a network pipe large enough between your datacenters (or a co-location), a replication technology, double the servers and storage capacity, and possibly an entire other location. Every few years, you need to refresh this technology as your workloads modernize.
This solution has been out of the reach of the typical business due to the cost and complexity. The latest shift in Disaster Recovery is underway right now and it involves data being driven by the cloud, creating DR as a Service.
The cloud is the perfect vehicle to bring disaster recovery to the masses and lower complexity for enterprises currently doing disaster recovery. With the cloud, you no longer have to deal with secondary hardware, maintenance contracts, or pay for racks and space in another data center that you may never use.
Microsoft has made this even easier through their Azure Site Recovery offering, which can bring disaster recovery capabilities to your servers whether they are Hyper-V, VMware or physical. By pricing it per server, you have the flexibility to scale out quickly without having to re-architect or grow out a physical solution.
Azure Site Recovery also allows you to test much easier than with a physical disaster recovery solution. When you test a traditional disaster recovery, there are often a team of folks ready to go to switch networks and perform the failover. Testing disaster recovery is an "all hands on deck" event, usually with a managed runbook and a meticulously scheduled weekend.
With Azure Site Recovery, you can isolate the environment off and spin it up at your leisure. Of course, you do have to pay for running the environment during the test, but you aren't investing capital in keeping equipment idle "just in case."
With Azure Site Recovery, you are protected whether your datacenter falls into a sinkhole or even during a regional outage, depending on how you configure it. Nothing like this was possible just 22 years ago as I watched and wondered how long it would take my dad's office building to collapse.
There are a number of ways to begin with Azure Site Recovery and Arraya recommends a pilot to get started. Of course, our Managed Services Practice can bring more value by managing the environment and even perform tests periodically. Contact mssales@microsoft.com to learn more!