Recapping VMworld Day 2
The second day of VMworld 2016 has come and gone. However, we have some business to take care of before we can officially say goodbye to day two of VMware's conference. So let's check in with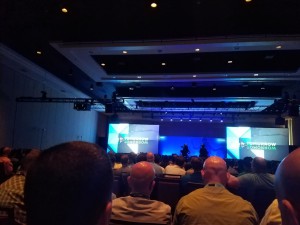 a member of our virtualization team (who will be onsite all week) and get his thoughts on some of the most noteworthy moments from day two.
Looking back on day two of VMworld 2016
Tuesday's general session centered around three main areas: Enhancements to Horizon, Windows 10 Unified Endpoint Management, and a vRealize Network Insight introduction and demo. Here's a closer look at each of those topics and what they could mean for businesses:
Horizon Enhancements
Blast Extreme display protocol was at the center of a number of the changes coming to Horizon. The feature, which was introduced earlier this year with the release of Horizon 7, will undergo a 6x reduction in image bandwidth consumption and a 15% reduction in audio streaming bandwidth. This will result in an improved user experience and performance gains.
The list of validated client devices for Blast Extreme has also been expanded to include some very low cost thin and zero clients from leading vendors such as Dell, HP and IGEL. DIY enthusiasts can even experiment with the new technology preview support for Blast on Raspberry Pi devices. There has never been a better time to replace, rather than repurpose, existing legacy PCs when deploying or expanding a virtual desktop environment.
While we're on the subject of hardware, newly validated hyper-converged appliances have been announced for Horizon Air Hybrid mode from several vendors, including EMC. These cloud-managed appliances are the fastest and easiest way to dive into desktop virtualization, and can easily scale to hundreds or even thousands of desktops in a fraction of the time it took in the past.
Windows 10 Unified Endpoint Management
In his "Mobile and Endpoint Strategies Primer for 2016," Gartner analyst, Chris Silva, argued "the future of endpoint management lies in consolidation of management tools that manage traditional PCs and mobile devices as a common management framework evolves across the two."
This theme was echoed in VMware's announcement of its Windows 10 Unified Endpoint Management tool. Essentially, it's a consolidated management device that delivers a less complex, more streamlined way for IT to manage devices, including Windows 10 PCs and mobile devices. Configuration management, software distribution, patch management, and security are all part of the new VMware Unified Endpoint Management technology. For more information, see http://www.windowsuem.com/
vRealize Network Insight
Network security can be a complex challenge, especially as businesses delve into virtualized private clouds, public clouds, and network virtualization technologies (such as VMware NSX). Getting a handle on applications and their network security requirements isn't just time-consuming, it can also be painful, considering the ever-present risk of breaking major application functionality if mistakes are made when configuring firewall rules.
However, VMware's recent acquisition of Arkin has led to the development of a tool called vRealize Network Insight. This is an application-focused tool that provides deep insight into network infrastructures. It can reduce the time required to plan and configure application security by 70%.
vRealize Network Insight uses a unique visual interface that allows IT to see which servers and applications are communicating with each other. Then, it can automatically generate a list of recommended security policies for the application, which can be quickly applied by the NSX firewall.
FYI: Arraya will be offering a free NSX Network Assessment in the near future, based on vRealize Network Insight, to help businesses gain a better understanding of how network traffic flows within their datacenters, where security vulnerabilities may exist, and how performance can be improved by virtualizing the network.
The next best thing to attending VMworld
Couldn't make it to Las Vegas for this year's VMworld? Check back here all week for the latest conference updates from our virtualization team. Also be sure to follow us on social media – Twitter, LinkedIn, and Facebook – for more from VMworld 2016.