What About Cybersecurity Drives IT Craziest?
Several of our team members made the trek last week from Arraya headquarters to Harrisburg. Drawing them towards central Pennsylvania was the promise of some good conversation around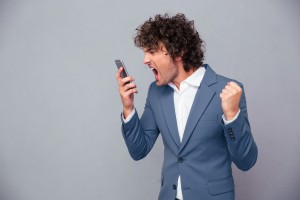 one of the hottest of hot button IT topics: cybersecurity. The venue for this discussion? The PA Chamber of Business and Industry's IT Security for Executive Leaders event.
Now, considering the importance of cybersecurity in today's business landscape, any conversation on that subject is one we want to participate in – which is why we decided to sponsor the day in the first place. However, this event also appealed to us because it acknowledged that, on the subject of cybersecurity, a communication gap often exists between those at the top of a business and those in IT. Building connections between teams and individuals within an organization is something we're all about at Arraya and so we were eager to hit the road.
As a way of further generating conversation when attendees visited our table, one of our team members hung up a large, blank piece of paper. On it, attendees were invited to write their top IT concern – cybersecurity related or not. The result was a collage of responses covering a wide range of topics. While not scientific, the exercise still provided a portal into the IT issues that are troubling folks from all sides and levels of the business.
The human side of cybersecurity
Perhaps unsurprisingly, the most popular response we received on our list of concerns involved people and their ability to influence cybersecurity. While, the human element factored into the majority of the responses we received, attendees approached it in different ways.
Employees lack security awareness – Even if they've never experienced them firsthand, IT is intimately familiar with the impact of things like ransomware and data loss. Per our findings, those outside of the department often don't share that familiarity. Tip: Everyone has a role to play in cybersecurity, regardless of job description. IT can help ensure everyone plays theirs by spreading news, updates and best practices through the company intranet, regular emails, or some other platform.
Employee training issues – The subject of training was another one which attendees approached from different directions. For some, it was a matter of not having the skill sets and personnel on staff to manage the latest threats and solutions. For others, it came down to IT staff not knowing how to use the solutions they already have at their disposal in the most effective way possible. Tip: If rising workloads are keeping IT staff from attending training on the latest solutions or tactics, it may be time to offload some work onto a managed services provider.
Too little support from executives – This concern makes sense considering it echoes the event's theme of a chasm between IT and business leaders. It's doubtful executives wake up each morning with the intention of ignoring IT's thoroughly-researched suggestions. What's more likely is the message is getting scrambled somewhere between IT's mouth and executives' ears. Tip: Wherever possible, strip out the technical jargon. Keep the focus on how a particular cybersecurity solution would benefit a given executive's team. If this isn't clear, pick the brains of that executive's direct reports to find out what he or she has been devoting time to lately and use that to guide your pitch.
Cybersecurity: What's driving you crazy?
We're very pleased with how this experiment turned out and it's something we hope to emulate at future events. It's given us great insight into where organizations may be struggling – and how we can be of assistance.
Do any of the above challenges sound familiar? What are some of your other biggest IT challenges? Let us know by visiting www.arrayasolutions.com/contact-us/. Or reach out to us through social media: Twitter, LinkedIn, Facebook.