What You Need to Know From EMC World 2016: Day 2
EMC World 2016's themes of automation and the need to modernize were echoed frequently during Day 2. They came up during a keynote address given by Jeremy Burton, EMC's President of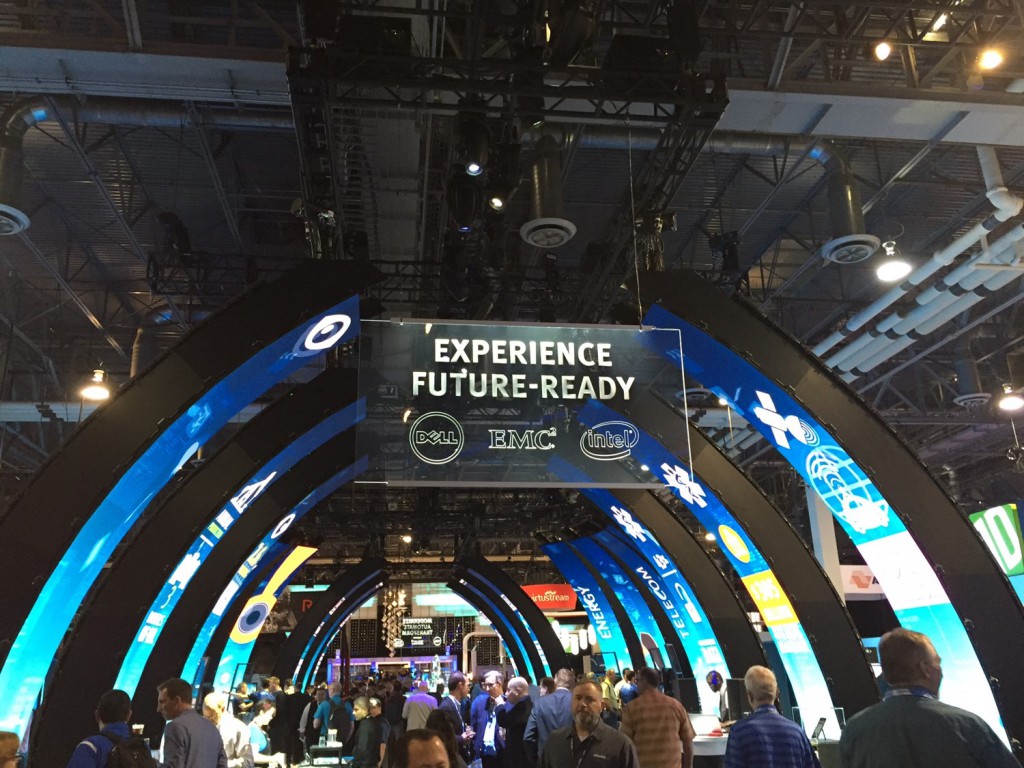 Products and Marketing. "Modernize. Automate. That will transform your IT Operations," Burton said. The idea behind this message was also palpable throughout the day's announcements and sessions.
Here's a recap of some of what you missed from Day 2 of EMC World 2016:
Data Protection Management and Deep Dive
EMC Data Domain Management Center provides a single virtual appliance, one that is easy to deploy and can handle the needs of up to 100 Data Domain systems. In addition, it:

can group together similar Data Domain systems so they can be managed via a single pane of glass.
gives IT additional insight into the replication process and whether or not SLAs are being met. If they're not, it can provide a path to resolution.
offers a Data Domain first: If Data Domain systems are running 5.7 DDos, it can show physical capacity consumed per MTree.

EMC Backup and Recovery Manager provides IT with an easy-to-deploy virtual appliance which can manage/monitor Avamar, NetWorker, and Data Domain. Also it:

can centrally restart failed jobs from one pane.
tracks the status of backup jobs across all three solutions (NetWorker, Avamar, and Data Domain) in real time.
is available on mobile devices, including iOS and Android.

Data Protection Advisor alerts IT to trends in data, change rate, and available capacity. It also:

features a 6.2 SP3 in the latest generally-available version
includes an analysis engine that can help IT root out the causes of failure
offers Smart Groups functionality covering:

the ability to group backup clients logically and use those groups to guide reporting, analysis, history, etc.
the regeneration of sophisticated and detailed reports on demand.
a way to bridge the gap between IT and the business side, making the effectiveness and value of backup solutions easily digestible.
EMC Unity Virtualization Integration
On Day 1 of EMC World 2016, EMC Unity was announced. This solution is a mid-tier storage offering built to make all-flash available to businesses of all sizes. On Day 2, Unity's virtualization capabilities and integration points were dug in to more deeply. This included:
Support for Virtual Volumes (vVols) through the use of NTFS (via iSCSI or FC) and NFS (File). (Arraya's Advice: Use the protocol your team feels most comfortable with.)
Control stations and data movers have been eliminated, replaced with pools which can be used for block and file unified architecture in 2 U.
Policy-based data store creation (on array) and VM creation (off array).
Support of migration from NFS/VMFS datastores over to vVols.
New Copy Engine – Uses open source technology to bring speed and scale to vVol clones.
VPLEX: Advanced Configuration and Design
The news of the latest features coming to VPLEX was a hot topic of EMC World 2016 Day 1. During Day 2, optimizing VPLEX to ensure it reaches its full potential was a highlight. This included how to best combine the might of VPLEX and XtremIO. Here's a quick rundown of the topics discussed:      
VPLEX 5.5 now supports native unmap commands to XtremIO so there's no need to issue these commands manually through a host server.
VPLEX 5.4.1 systems now have a health dashboard in the GUI 5.5+.
VPLEX now comes with 30 day free monitoring with VPLEX Performance Monitor virtual appliance.
VPLEX 5.5 uses an intelligent round robin algorithm on the backend to choose paths with smallest queue for increased performance.
Modern Data Center
Today's data centers are being hampered by what EMC refers to as "technical debt." That is, legacy and inherited technologies which aren't keeping pace with the business' needs. By embracing the Year of All-Flash, and the following solutions, EMC believes businesses will be better prepared to succeed:
VMAX All-Flash Arrays prove the validity of all-flash as a feasible alternative to spinning disk arrays. VMAX All-Flash boasts: 4M IOPS, 1/2 MS Response Time, and 150 GB/s 4 PB capacity, making it the largest all-flash array available. In addition, VMAX also brings to the table:

Nearly seven 9's of availability
Up to 16 TB of cache and high capacity flash drives
Improved durability of high capacity flash drives due to cache
Cloud tiering delivered via CloudArray
450 F/FX or 850 F/FX options

Unity brings flash storage to small-to-mid-sized business. It features an easy-to-use, HTML5 interface and five 9's of availability. Unity storage solutions are also flexible: they can be deployed in a variety of options, including all-flash, hybrid, converged, and SDS, based on the needs of the business. Unity also features:

A compact dual controller design
Xpect More – EMC's lifetime maintenance protection, drive warranty, and 3 year money back guarantee
CloudIQ, built on CloudFoundry, which lets IT monitor the health and status of a Unity array
Internal mini SSD – to de-stage cache
2 PSU with the ability to run on 1
VCE VxRAIL Best Practices for Managing & Protecting Business Critical Workloads
VCE made headlines earlier this year when it debuted VxRail, a hyper-converged infrastructure solution billed as a "quantum leap" forward for hyper-convergence. This scalable solution is capable of reducing management complexity. Of course, the other essential elements to all data center solutions are security and reliability, two things VxRail also excels at. VxRail features:
a base of 4 nodes due to the fact that VSAN requires at least 3. Starting with 4 allows VxRail to tolerate 1 failure and then a second failure after re-protection
the ability to self-heal from drive failures and re-protect on another node
Fault Domains which are used to isolate faults, increasing the solution's availability
Data protection options including VSphere Data Protection and RecoverPoint for Virtual Machines
VSphere Replication, site to site, sub one hour RTO/RPO
support for stretched clustering
Learn more from EMC World 2016
These are just some of the stories worth following as EMC World continues. Keep an eye on this blog (and our Twitter account) all week as members of the Arraya Solutions enterprise infrastructure team are onsite and will continue reporting back with all of the latest.
Have a question about what's taking place at EMC World? Contact our team directly by clicking HERE, or reach out to us via any of our social media accounts: Twitter, LinkedIn, and Facebook.