What You Need to Know From EMC World 2016: Day 3
The overarching theme of EMC World 2016 has been modernize. Day 1 was all about modernizing the industry, while day 2 focused on modernizing your data center. The theme of Day 3?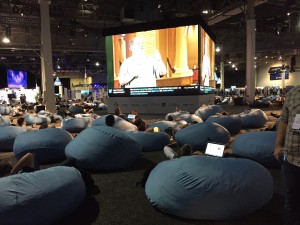 Modernize your business. In addition to the product announcements and insights, the day featured an address from producer John Landeau (Avatar and Titanic) on how technology is impacting movies and a James Bond-tinged keynote on emerging technologies featuring Jeremy Burton, EMC's President of Products & Marketing.
Here's a recap of some of the other festivities and announcements you may have missed from Day 3 of EMC World 2016:
Unity: Data Protection Options
EMC Unity has been one of the stars of this year's EMC World. The mid-tier storage offering was unveiled during Day 1 and its capabilities were explored even further during Day 2. In store for Day 3 was a look at the security components native to Unity – and what can be added to further harden it against cyber crooks. Topics included Unity's ability to:
pull block, file and Vvols from the same pool
replicate virtual appliances to hardware solutions
execute controller-based encryption at no additional cost, enabled at install time

Encrypt/Decrypt are handled at the SAS controller level, supported on all ports and SLICs
Deleting pools deletes all drive encryption keys, may eliminate the need to shred drives
Keeps detailed, easily retrievable audit logs

provide point in time copies via snapshots

The ability to redirect on write technology results with minimal to non-existent impact on performance
Multiple sources of snapshots, including:

LUN
VMware datastore
Other snapshots

Instant restore from snapshot, automatic snapshot, or existing source provide "undo" capability
Snapshots can be customized for frequency and retention time via a scheduler build into the GUI interface.

back up filesystem data via NDMP
support VPLEX, Recover Point and Data Domain
Unity Multi-Dimensional Flash Flexibility
The flexibility provided by EMC's Unity was also a hot topic of conversation during Day 3. This included discussions around use cases for Unity's hybrid deployments, as well as its all-flash arrangement. Beyond that, attendees were walked through a methodology they could use to determine what the makeup of their storage pools should be. Highlights included:
Unity's range from 101-295K IOPS depending on model starting from 300F to 600F
Its diverse drive support, covering:

Fast Cache, 200, 400 or 800GB
SSD for Fast VP
SSD for flash only
15K spinning
10K spinning

When test run on 500F model, Unity delivered:

1 through 32 threads per LUN, up to 4 LUNs
80/20 read/write ratio at 8K IOPS
During 67/33 w/r mix, Unity hit 25K IOPS per drive

Sizer tool can be fed existing performance data from EMC array to get detailed configuration recommendations for Unity
Vdbench test uses (4) servers attached at 16GBs to Unity 500f servers capable of 200K iops per server

16 LUNs in Raid 5
8KB random 50% read, 48K iops per drive 97K IOPS at 1.33ms response time (5) 800gb SSD drives
Same workload against 20 SSDs results in 9700 IOPS per drive with sub 1MS latency

Fast Cache now supports online expansion or shrink, a transition which used to be a disruptive event on all previous EMC arrays
The Future of EMC: Emerging Technologies
During Day 3's general session, which featured the previously-mentioned James Bond flair, CJ Desai and Josh Bernstein (President and Vice President of EMC's Emerging Technologies Division, respectively) discussed the latest offerings coming out of their division. These included:
Software-Defined Storage and Open-Source Technologies – There are three main drivers behind software-defined storage (SDS). The first is economics. As SDS can operate independent of hardware specific features, it can result in tremendous cost-savings. Then there's scalability. Today's apps are built with scalability top of mind, and SDS can meet the demands of those apps while also reducing management complexity. Lastly, flexibility is a key. In response to this, EMC has developed a comprehensive collection of SDS options for customers, e.g.:

ScaleIO for block storage

Software-defined SAN offering
Capable of scaling up to 1000 nodes
Mainly used to build IaaS tools for traditional, block-based apps

Elastic Cloud Storage (ECS) for object storage

Hyper-scale object storage platform
Functions as storage for geo-distributed cloud-based apps

IsilonSD Edge for file storage

Software-defined version of Isilon file platform
Seamlessly syncs data from edge to core
Features 36 TB scalability at edge

Project Nitro may not be available yet (it's coming in 2017), but when it arrives, it promises to revolutionize storage. Here's how:

All-flash Isilon, built on blade architecture
Capable of scaling out to 400+ nodes and 100 PB capacity
Offers 1.5 TB/s bandwidth

DSSD is a new innovation from EMC available today. This hardware architecture sports:

10M IOPS at micro-second latency
PCIe shared storage
Real-time analytics capabilities
Over 100 GB/S of bandwidth

VxRACK has gone cloud native with its latest version. The new VxRACK 1000 with Neutrino nodes gives companies a platform from which to quickly, securely deploy an on-prem cloud environment. VxRACK:

Supports OpenStack, VMare Photon Platform, and more
Allows provisioning of cloud-native IaaS in less than one hour
Scales with ease, ensuring cloud environments remain fast, agile and enjoy a lower cost
Staying in the loop with EMC World 2016
Weren't able to attend EMC World 2016? Here are our recaps of Day 1 and Day 2 to help catch you up on what you missed. Members of our enterprise infrastructure team have been on the ground in Las Vegas all week, gaining firsthand access to the news and innovations to come out of the week. Have a question for our team? EMC World-related or not, they can always be reached by clicking HERE. Also, they can be reached through our social media accounts: Twitter, LinkedIn, and Facebook.