White Paper: What's Working (& What Isn't) in Cybersecurity
National Cybersecurity Awareness Month, or as it's also known, October, is typically a big deal here at Arraya. Sure, cybersecurity has really come to dominate the technology conversation year-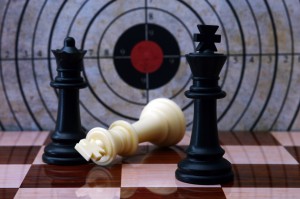 round, however, there's nothing wrong with giving it a little extra attention for 31 days. All month long, we've posted stories on our blog and on social media about topics we believe can further the overall cybersecurity conversation. As the National Cybersecurity Awareness Month festivities come to a close, we do have one last trick up our sleeve.
Today, we're proud to release our 2016 Cybersecurity Tactics Snapshot. This white paper is the first of its kind from Arraya Solutions. It has its roots in the idea that one of the most effective ways to defend against cybercrime is to learn from the experiences of others. With that in mind, we put together a survey we hoped would shed some light on what works and what doesn't when it comes to security for businesses.
We distributed this survey to attendees of our 2016 Tech Summit back in June. This day-long educational event brought together IT professionals from a wide sampling of different industries, including healthcare, manufacturing, higher education, and more. The diverse group of industries was appealing. So too was the idea of, in many cases, hearing from the folks positioned directly on the frontlines of their organization's cybersecurity efforts.
Once we had our data, we began sorting through it to see what it told us about the state of cybersecurity. We crunched the numbers, analyzed the deeper meanings, and, when we were finished, we had a document we believe can prove very beneficial in today's IT climate.
Some of the more interesting tidbits we uncovered are:
How confident organizations are overall in their ability to withstand a cybersecurity attack
How often organizations should review their cybersecurity policies in order to feel highly confident in their ability to bounce back following a security incident
The frequency in which organizations should review their cybersecurity policies with end users in order to feel highly confident in their ability to recovery quickly from a security incident
The effect that a data breach can have on a business' cybersecurity strategy once the dust has settled
The percentage of organizations who say they have suffered a data breach or incident in the past 12 months – and the severity of that incident
Keeping cybersecurity goals top of mind
One of the main takeaways from our 2016 Cybersecurity Tactics Snapshot? A best-of-breed approach to cybersecurity doesn't solely refer to deploying the latest and greatest technology solutions – although that is certainly part of it. That same energy must be applied to developing and adhering to internal policies, which keep cybersecurity top of mind for all facets of the business.
As we mentioned above, National Cybersecurity Awareness Month may be over, but that doesn't mean the conversation has to end. Be sure to check out our full 2016 Cybersecurity Tactics Snapshot. Then, start a dialogue with our security team by visiting: www.arrayasolutions.com/contact-us. Our engineers are well-versed in helping organizations assess their existing cybersecurity environment, spotting weaknesses, and architecting solutions capable of going toe-to-toe with the methods favored by modern cybercriminals, including ransomware and malware.
Arraya – and our team – can also be reached through social media: Twitter, LinkedIn, and Facebook. Stop by, send us a message, and follow us to keep up with all of our latest blogs, special events, and industry insights.