2017 Rewind: 9 Stories that Rattled Information Technology
Before we officially send 2017 to that big data center in the sky, we thought we should take a look back at the year in technology news – and what a year it was! During the last 12 months, cyber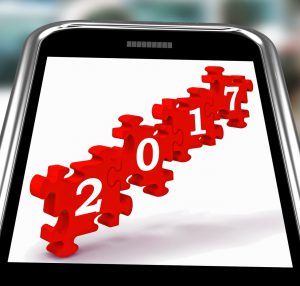 attacks seemingly grew larger and more vicious, capturing the full attention of those inside IT and out. The news wasn't all bad as devices grew smarter, people became more connected and companies continued to reimagine and reinvent longstanding processes and approaches. All year long the Arraya team was there, participating in and guiding those transformations – and blogging/podcasting about them when schedules allowed! So, we reached out to the members of our team and asked them about the biggest technology story they encountered in 2017. Here's what they had to say:
Ryan Benner, Vice President, Enterprise Infrastructure
From the C-suite to frontline engineers, I think you'd be hard-pressed to find a bigger technology story this year than what we're seeing with cyber security.
Harry Chen, Director, Staffing Services
The biggest trends I noticed this past year were that the unemployment rate is 4.1% (the lowest it has been in 17 years), the economy is booming (with the Dow Jones hitting record highs), and the gig economy is in full effect.  Due to all of this, it is getting increasingly difficult to identify talent, and businesses are leaning on more outsourcing and cloud solutions to accomplish their objectives.  I've seen more organizations open to leveraging consultants than ever before.
Halim Chtourou, Enterprise Solutions Architect
The biggest story from 2017 would probably be VMware selling vCloud Air and focusing on partnering with Amazon, IBM and Microsoft to position key technologies like NSX and vSphere in public cloud consumption models. Having the same platform architecture as your on-premises deployments, now in the cloud, makes it much easier to move legacy workloads to a public cloud.
Tom Clerici, Director, Cyber Security Practice  
In my opinion, WannaCry and its rapid global impact was THE game-changer for security in 2017. Equifax was newsworthy and significant, but by now, we're all accustomed to hearing large organizations give fake apologies for their ineptitude. WannaCry was more significant because it extended the reach of cyber criminals beyond stealing personal data into actually shutting down physical capabilities, like emergency rooms in the UK. Traditionally, financial systems cared because of the personal data, healthcare worried about electronic medical records, and other regulated companies cared about auditors. Now, ALL industries have to worry about these kinds of attacks bringing their systems to a halt. That's a sweeping culture change from a single event, making it, in my opinion, the biggest story of the year.
Doug Guth, Director, Cisco and IoT Practice
There were two trends I thought dominated my focus area in 2017. The first of these was the emergence of software defined as a prime time approach and the other was organizational transitions to more of a SaaS/software focus.
Jason Kline, Microsoft Cloud Solutions Architect
Sometime around the middle of the year, the shift in discussions around the cloud took a 180 degree turn from "we have major concerns about security in the cloud" to "we now recognize the cloud can be more secure than on premises solutions." This shift in mentality paved the way for many cloud discussions. We have seen interest from multiple organizations that have stated they are ready to move as much infrastructure as possible to the cloud, with a few ambitious enough to drive toward a cloud-only model.
Mark Nixon, Team Lead, Data Center
I think the Dynamic Pools technology introduced in recent versions of Unity has the potential to be massive for Dell EMC, for customers and for partners like Arraya. If this technology plays out as it's supposed to, it's going to let organizations budget out storage upgrades based on how much capacity they actually need, without being bound by private RAID boundaries and performance concerns around non-standard RAID topologies. This should make it easier to plan necessary upgrades while also making sure customers are getting full value from their storage solutions.
Matt Sekol, Director, Cloud and Microsoft Practice
In my role, I've seen organizations trending toward advisory services for big concept technologies – security, productivity, end user compute and cloud.
Rajasekar Shanmugam, Team Lead, Network Services
The biggest story or development in 2017 from my focus area was collaboration cloud. I believe these solutions stepped more into the spotlight last year.
Have any questions about our biggest stories from 2017? Have a few of your own you'd like to share? Our team can be reached at www.arrayasolutions.com/contact-us/. They can also be contacted through our social media presence: Twitter, LinkedIn, and Facebook. Be sure to follow us for all of our latest blogs as well as alerts about upcoming special events.