4 Free Assessments That Will Promote Your Data Center Transformation
Data center transformation isn't just a buzz-phrase nor is it merely a to-do list box to be checked off once and forgotten about. Instead, it's a continuous process, one which IT must remain vigilant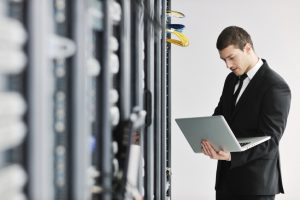 for new ways to apply. Finding these fresh approaches can prove difficult, particularly for time-strapped technology departments. However, with the help of a partner like Arraya Solutions, these opportunities can be more easily spotted.
Arraya's strategy for furthering the cause of data center transformation includes offering multiple VMware-based software-defined data center assessments. Organizations of all sizes and industries can leverage one or more of these assessments to uncover new places where data center transformation can take hold. Here's a quick overview of these assessments and what business can expect from each:
Virtual Network Assessment – This roughly three-day-long assessment looks at the various ways traffic traverses the corporate network. Its chief concern is shedding light on security vulnerabilities within these traffic flow patterns while also providing IT teams with ways to address those concerns through additional visibility and microsegmentation.
Hybrid Cloud Assessment – In just four hours, this assessment can detail an effective organizational cloud strategy. It does this by providing estimates on the cost of housing selected workloads in the cloud versus keeping them on premises. Additionally, it can show businesses how to optimize their cloud strategy to ensure it fits designated budgetary goals.
vSphere Optimization Assessment – Over the course of anywhere from one to four weeks, the vSphere Optimization Assessment will dig in to an organization's existing virtualized environment. The length of the assessment varies depending on a business's goals as well as the size of its virtualized environment. Upon its conclusion, participants will receive a customized report documenting the ways in which they can improve the capacity, performance, and efficiency of their virtual machines.
vSAN Assessment – The goal of this three-day assessment is storage modernization. It analyzes existing virtual machines and determines whether or not their designated workloads are enough to require an all-flash arrangement or if a hybrid configuration would be sufficient. Additionally, this assessment can also suggest hardware upgrades needed to support these recommendations. Participants can come away from this assessment with a more advanced storage environment and CapEx/OpEx savings.
Discover the next phase of data center transformation
Taken singly or together, these assessments can provide a clear path forward for organizations looking to further the cause of data center transformation. Arraya's expert Data Center team stands ready to perform any or all of the above assessments at no cost. Once the assessment is finished, our team is also available to help organizations map out and execute the next phases of their data center transformation strategy.
Interested in one or more of the above assessments? There's never been a better time to take part. In addition to the practical benefits of participating, VMware – in conjunction with Intel – is sweetening the deal. The companies are offering a free golf driver or a drone to those who complete any of these assessments. This offer will last for a limited time so, as far as signing up goes, the sooner the better. Contact Arraya Solutions by visiting www.arrayasolutions.com/contact-us/ to schedule your assessment and secure either of those special offers.
Also, feel free to leave us a comment on this or any of our blog posts by checking us out on social media. We can be found on LinkedIn, Twitter, and Facebook. While there, be sure to follow us to be the first to know about our latest industry insights, unique learning opportunities, and company news.