4 Things You Might Have Missed at Arraya's 3rd Annual Tech Summit
Last Thursday, the mid-Atlantic region's top IT professionals gathered for Arraya Solutions' Tech Summit. For the third year running, attendees packed the halls and conference rooms of the
Sheraton Valley Forge in King of Prussia, PA to explore the latest technology solutions and learn more about those that already make up their IT environments.
This year's Tech Summit included more than two dozen unique sessions, covering the topics and technologies that most affect today's IT professional. Arraya's engineering team presented each of these sessions. By connecting attendees directly with Arraya engineers in this way, the Tech Summit delivers a by techs, for techs experience.
"If you know me, you know I'm passionate about technology," David Bakker, Arraya's CTO, reflected. "I'm not alone in that; it's a feeling shared by the whole Arraya team. It's what inspired the Tech Summit, an event where techs can learn something new right from other techs."
Couldn't make it to the Sheraton for this year's Tech Summit? Here are four things you missed:
#1: The global view on IT today
A keynote address from IDC's Sean Pike opened the day. As a worldwide leader in market research and analysis, IDC is uniquely positioned to provide a big picture view of the forces that are shaping the world of IT.
Pike, who serves as the organization's Program Vice President for Security Products and eDiscovery & Information Governance, spoke on the intersection of two of IT's favorite topics: digital transformation and cyber security. During his keynote, Pike emphasized that, as connectivity grows, so does the need for greater data integrity. Security pros – and the businesses they support – must be able to depend on the sources of their data, or the consequences could be steep.
#2: A complete ransomware strategy guide
Following Pike's presentation, attendees divvied up among the day's various breakout sessions, which ran concurrently throughout the Tech Summit. As one might expect given its seemingly permanent place in the headlines of both the mainstream and IT media, cyber security proved to be a popular topic. Ransomware, in particular, generated a great deal of interest.
One session, dubbed Anatomy of a Ransomware Attack: Exploring the Best (& Worst) Case Scenario, took attendees through a simulated attack. It demonstrated the difference between joining the ranks of those unfortunate companies who helped make ransomware a billion dollar business last year and coming out of an attack unscathed.
Following this session, Tom Clerici, Director of Arraya's Cyber Security Practice – who co-presented with Dan Clarke, a Senior Solutions Architect on our Cisco and IoT team – voiced a reflection on their course that could apply to any of the day's deep dives.
"I think the combination of traditional slide show information followed by technical demonstrations struck the right balance of theory and application, and that hit home with the attendees," Clerici noted.
#3: Arraya's take on how digital transformation has changed IT 
Outside of cyber security, another attention-grabbing talking point was digital transformation. Besides being the focus of Pike's Tech Summit-opening keynote, it was also the central component of a session entitled Digital Transformation for the IT Professional. This course used real world examples to show how connectivity has changed the way today's biggest businesses operate.
Matt Sekol, Director of Arraya's Microsoft and Cloud Practice – who co-presented this session with Ryan Benner, Arraya's Vice President of Enterprise Infrastructure – saw value in how all of the day's sessions managed to be both approachable and technical.
"I was really impressed with the presentation skill of our technical staff and their ability to bring complex technical ideas to the Summit," Sekol said. "I think there was an overall theme of having fun with the content and incorporating personal stories at a level that I haven't seen at the Summit yet."
#4: A chance to elevate IT – and the organization as a whole
IT is at the core of the modern enterprise so, when it takes a step forward, the business comes with it. There were plenty of opportunities for IT pros to further their knowledge and help their businesses advance during the Tech Summit. The day featured over two dozen unique sessions, devoted to a wide variety of subjects, including cloud, cyber security, communication & collaboration, networking, and more. Members of Arraya's tech team designed and presented each session, ensuring a high-degree of technical content.
Among the day's most popular sessions was DR/BC Solutions that Guarantee Faster Recovery and Peace of Mind, which was presented by Halim Chtourou, Jeremy Rupczyk, and Jeremy Klinger, all from Arraya's Data Center team. During the session, the trio of presenters highlighted how IT pros can leverage industry-leading solutions to ensure their business's data will be available whenever they may need it.
Another topic that garnered a good deal of interest was The Concepts and Technologies that Define the Modern Data Center. Ron Longley, Arraya's Data Management Practice Manager, and Matt Haedo, a Solutions Engineer on Arraya's Cisco team, presented this session, guiding attendees through complex topics such as hyperconverged, hybrid cloud, and more.
Also drawing in the crowds were sessions such as: BYOD: How to Make Employees Happy & Keep Data Secure, A Brief History of Data Storage: From the Early Days to All-Flash, 'Dude Where's My Data?' Improving Data Governance Strategies with Office 365, and Steering Your Organization to Success in the Hybrid Cloud.
What comes next for the Tech Summit?
Bakker isn't interested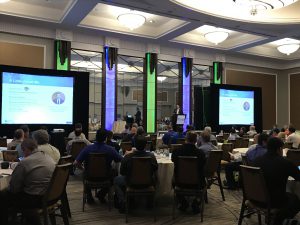 in sitting back on past successes with the Tech Summit. Even before Pike's keynote began, Bakker was already brainstorming ways to evolve the event in the months and years ahead.
"I'm proud of how this event has grown in just three years and I'm excited about what the future holds for it." Bakker said. "That passion I talked about? It's not one-sided. Every single person who attended the Tech Summit feels the same way about technology. Ultimately, we want attendees to leave with knowledge and insights they can use to turn that passion into meaningful changes."
Couldn't attend our Tech Summit, but want to learn more about these and other presentations from the event? Or, were you in attendance, but a particular session filled up before you could get a spot? Reach out to Arraya today at www.arrayasolutions.com/contact-us/ and we'll connect you with our team of experts.