5 Dell EMC Stories From VMworld 2017 You Need to Know
The news broke fast and furious at VMworld last month, keeping the members of the Arraya team in attendance plenty busy as they attempted to experience (and document) everything that took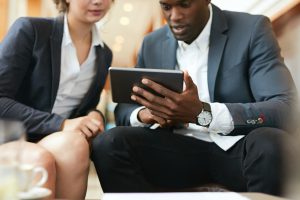 place. While their efforts were admirable – check out their coverage HERE and HERE – there's still plenty of stories to dive in more deeply to as we move forward from VMworld.
One area we'd like to expand on concerns Dell EMC. Now, while VMworld 2017 was undoubtedly VMware's show, Dell EMC had a productive week in its own right. At the conference, Dell EMC and VMware came together to announce several new product integrations and enhancements. These changes should give businesses some much-needed additional support as they pursue their digital transformation agendas.
Let's take a look at five of the biggest announcements as well as the ways in which they seem poised to make an impact:
VxRail gets a modern makeover – VxRail 4.5, the latest version of Dell EMC and VMware's jointly engineered and VSAN-powered hyperconverged infrastructure appliance, is set for a September release date. This release features automation and lifecycle management capabilities, making it easier for IT to administer to the newest VMware technologies, including vSphere 6.5 update 1 among others. In addition, VxRail 4.5 incorporates at-rest data encryption for VSAN to enhance the data center's security posture.
A more scalable, efficient VxRack – VxRack is a hyperconverged solution featuring Cloud Foundation that brings together everything a business needs to launch its own private cloud. It's scalable so that it can continue to meet the data center needs of growing organizations. Further adding to its flexibility are dozens of new Dell EMC PowerEdge configurations that give organizations more choices and access to higher-capacity storage options.
Hybrid clouds for any need – Organizations whose interest in the cloud is more hybrid than private have several new options to explore. Dell EMC Enterprise Hybrid Cloud (EHC) and Dell EMC Native Hybrid Cloud (NHC) each seek to provide a turnkey, low risk pathway to the cloud. EHC loops in Azure for additional public cloud options and adds greater scalability and availability to VxRail deployments. NHC also promises greater VxRail availability while offering developers an advanced application toolbox.
Greater peace of mind comes to virtual environments – VMware-based data centers will now be able to leverage Dell EMC solutions to increase transparency and data security without adding management overhead. At VMworld, the tech giants announced Dell EMC's Data Protection portfolio would be natively integrated with VMware technology. This will allow organizations to use automated data protection and governance strategies, provide greater access to self-service for application owners, and execute more efficient backup and recoveries. As a result, the door will be open for businesses looking to expand their virtualized environment without overwhelming IT.
Ready-built cloud and hyperconverged solutions – Customers interested in a simple yet secure way to take advantage of hyperconverged or the hybrid cloud may want to consider Dell EMC and VMware's joint portfolio of Ready Solutions. These solutions let organizations choose from a completely pre-built solution or take a customizable starting architecture in their own direction before empowering IT to take on more deployment and lifecycle management responsibility. VMware Ready Systems from Dell EMC makes it easy and safe to launch hybrid cloud solutions on a hyperconverged base, while Dell EMC vSAN Ready Nodes allow businesses greater control over HCI stacks while offering sizeable CapEx benefits.
Where can the VMworld conversation go next?
Want to carry on the conversation regarding any of these items – or VMworld in general? Arraya's team is ready to discuss with you the announcements that stand to make the most difference for your business. Reach out to us today by visiting: https://www.arrayasolutions.com/contact-us/.
We can also be found on social media: LinkedIn, Twitter, and Facebook. You can use any or all of those platforms to comment on our posts, keep up with our latest company news and industry insights, and be the first to know about the exclusive IT learning opportunities we provide.