A Too-Often Overlooked Part of Business Success
The Arraya team was out in force for Microsoft Ignite last month and, even though I couldn't make the trip, I did follow along with the blogs and news they sent back. As I read, I started thinking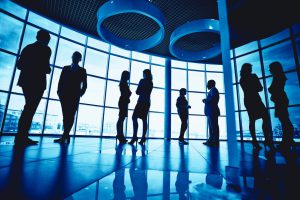 back on my own conference experiences and, while blogs can bring the energy (if the author conveys it well enough), there are few things like being in the room when a major technology advancement or a game-changing solution is announced. I love the adrenaline of those moments and I also love sharing them with customers. One of the great things about conferences is that they let companies like Arraya spend quality time with our customers. We can experience the future of technology together and brainstorm, in real time, how to use these advances to solve business challenges.
Beyond that, conferences also give us a chance to express something to customers we don't always have a chance to: our gratitude. Now, obviously, we don't take it lightly when customers open the doors to their IT environments to us and ask for our help. However, as we plan, execute, and support those initiatives, we aren't always able to take time to show how much that trust means.
Going to a conference lets us slow things down – at least a little bit. There's still plenty of rushing around, but you do have those times where you bump into someone in the hall between sessions and can catch up for a few minutes. Those chats are just one way to let someone know how much you appreciate what your companies accomplished together over the previous year. We can also set aside one night, book a spot at a local restaurant, and invite customers who are in town to a nice meal. Sure, in the grand scheme of things, these are small gestures, but I like to think they're meaningful just the same.
It's great to be a part of a company like Arraya that I know values these same things. Arraya believes strongly in taking the time to say thanks, so much so that it's become one of our flagship events. Each October, Arraya holds its Open House and Technology Day. It's an event where attendees can eat, drink, and hang out in a low key, casual environment – and maybe even enjoy a unique experience or two.  Last year, Arraya welcomed Philadelphia Eagle great and ESPN personality Ron Jaworski and "Jaws" regaled the crowd with tales of the football field and the boardroom. This year, attendees will be able to immerse themselves in a simulated world by way of some very cool virtual reality technology.
Even though I've been to Arraya's Open House before, this is going to be my first time as a member of the team and I couldn't be more excited. This year's Open House will be held at Arraya headquarters on October 19th from 2:30 pm to 6:30 pm. The event is free, but we'd like you to register so we know how many people to expect. Visit arraya.rocks/events to save your place!
Whether you've never been to one before or you come out every year, I know you'll have a great time. This is one more chance to show all of our partners and customers how appreciated and valued they are and I hope to see you on October 19th!