An M&A Guide for the IT Professional: Don't Panic
Throughout my career, I have participated in a lot of mergers and acquisitions. When I worked at a national power generation company, it was common to spin in and out power plants. At that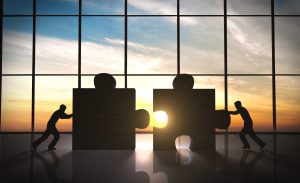 company, the executives decided to combine multiple companies in a complex, three-way merger. That activity represented my first large, multi-thousand user M&A. Following this milestone, I helped to complete various complex acquisitions and divestitures involving thousands of users at a global semiconductor at the pace of about one major M&A per year.
As you can imagine, I've moved a lot of IT resources around over my career. For an IT Professional or manager, an M&A can be a daunting task. Let's look at what the IT Professional can expect, from when they first hear about an M&A through completing the consolidation.
While these steps are sequential, the time frame is extremely short for all of these, with some steps happening out of order or even before the announcement is made!
Step 1: Don't Panic
Unless you are a CxO, M&As are usually always a surprise. Employees typically find out when the rest of the world does. Companies will put out a public statement or internal email announcing their intent to move forward with the activity. Read both and study them carefully to understand the what, why and – most importantly – the when.
There will be many questions up front, especially if you are the acquired company. Keep in mind that your direct manager likely knows as much as you. Your management chain needs to start working on the legal issues surrounding communications of systems with the other company. Typically, there are rules and waiting periods here, all balanced against the urgency to do something.
Step 2: Determine Day One
The key is to find out when Day One is. Day One is the day that the two companies become one and it comes up fast. Day One is a 24-hour blitz, usually focused on activities that bring a single cultural identity, namely email address and company intranets.
If your Day One is imminent, stop reading this and contact us today so we can talk about what needs to happen. If not, read on!
Step 3: Build a Plan
CxOs and Management will hold discussions around consolidating specific back office platforms, what they want for Day One, etc. For example, which SMTP address are you putting out to the world? What does Day One look like for them and why? Will the ERP be Oracle-based or SAP? … and so on. These discussions happen well above any IT Professional's pay grade, so stay vigilant, provide feedback when requested and be a subjective participant.
The goal of an M&A is to develop synergies (the one time you can use that word appropriately) and streamline operations to deliver stakeholder value. This happens by consolidation.
Once the systems decisions are made, it is time to build a plan. This is where Arraya can help.
Step 4: Consolidate the Foundational IT Platforms First
IT is built on a foundation of identity and devices. Every user has a user account and computer (or device) that they use to access everything. This user account, backed by an email address, is their identity for the business. To achieve a successful Day One, you need to consolidate identities, emails and computers into a single cohesive platform for employees to be able to communicate without barriers.
Arraya has built an award-winning M&A methodology for consolidation, and we're familiar with the pace and constraints around which this activity needs to happen. We can help you through consolidating identities, domains, workstations, servers and collaboration platforms. Beyond those foundational technologies that drive a successful Day One, all M&As are different and this might not be all that is required.
Oftentimes, security becomes an issue in the weeks leading up to Day One. We can help build network security perimeters and drive toward a common, integrated network while keeping protections in place. VDI can be another tool to help accelerate collaboration while staying within the boundaries of what is allowed legally.
Since Arraya is a full-service IT infrastructure, cloud and Managed Services provider, we can help across every activity that drives a successful Day One, even augmenting your Help Desk to deal with employee issues.
Step 5: Reach out to Arraya
Whether an M&A has just been announced or your company has struggled to integrate with another, it is never too late to develop a consolidation plan. Arraya has helped businesses consolidate certain Day One activities within weeks and migrated foundational IT platforms within months, not years. Our expertise can get you through this one-off activity quickly, helping to drive the financial goals of the consolidation.
Reach out to our team today by visiting: https://www.arrayasolutions.com/contact-us/. We can also be found on social media: LinkedIn, Twitter, and Facebook. Be sure to follow us to stay in the loop with our latest company news, industry insights, and special events.