Attention IT Managers: Answer the Door
In my last job, I was an IT Manager responsible for Microsoft and VMware. It was pretty exciting, but mostly because I was working at a semiconductor. We were on the cutting edge of technology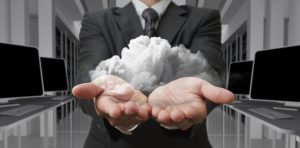 in a lot of ways because we were building the technology of the future. Not all IT Managers had a similar experience.
IT Managers have been shaped by the turbulence and constant change of technology over the past 20 years, but there's been another force at work. With the economic downturn of the 2000s, IT was the first one hit. This left a lot of IT Managers and staff feeling jaded. Here's how it went down:
IT sees the potential in technology to help the business.
The business, trying to save money, not only doesn't listen to IT's ideas, but cuts budgets and staff.
IT Managers learn an important lesson – namely they aren't the business partners they thought, just a cost center.
I went through this. I'll be honest, it was hard. I had been promoted and very quickly realized that I wasn't a driver for the business. For semiconductors, it is about storage and compute.
IT is at an intersection. The cloud has moved past being an interesting way to deliver virtualization services. Sure, this is a great benefit, but like Exchange Online and OneDrive, IaaS is a commodity IT services.
Microsoft has put new messaging around Azure, but it isn't just the latest marketing tagline. The cloud enables every company to now be a startup. Even your company can take advantage of the latest technology without having to make a slow, up front investment.
Think about what this means for your business. You can now try new ideas in days instead of months or years. If something doesn't work, you scrap it without much effort. Even Uber, who revolutionized public transit, is still using the cloud to deal with business risks.
Uber is piloting facial recognition in the face (see what I did there?) of growing security concerns. Imagine the infrastructure it would take to run such a solution on-premises in a data center? Then, if it didn't work, how would you ever recover?
IT Managers are now in the driver's seat of business (or soon will be). If you are one, congratulations, your future is bright. Even if your budget has been cut, someone at the CxO level will come knocking on your door soon with a request to do something quickly to match the disruption they are seeing in the industry
'If opportunity doesn't knock, build a door'
You need to be prepared. Here are some steps you can take today to make sure your company and your job are around in 5 years:
Budget for some low level cloud projects and see what all the fuss is about or just sign up for a trial and play.
Learn everything you can about the non-technical – security, data privacy, compliance and protection.
Learn the concepts behind IoT, data analytics, machine learning, modern application platforms and artificial intelligence.
Apply what you learn to thinking about what the cloud can do for your industry, not just your business. This gets you thinking bigger right off the bat.
Become a champion for innovation in your business and explain what the cloud is and how it can actually make a difference to drive new revenue streams, transform products or optimize operations.
This is all built on Microsoft's messaging around Digital Transformation. The cloud only is IaaS until you start doing something with it. So, what will you do?
I hear them knocking – get moving!