Cisco Spark Board Aims to Make You Kiss Your Whiteboards Goodbye
Has the time come to put your business's whiteboard out to pasture? These decidedly low-tech devices have maintained their place as a conference room centerpiece for a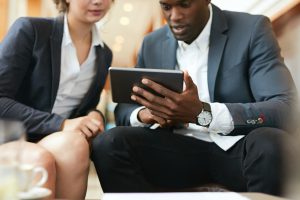 long time. However, in recent years, a number of challengers have appeared to test their dominance. Among the latest is Cisco's Spark Board, a device that seeks to replicate the look and feel of a tablet or smartphone, only on a much larger scale and anchored securely to a wall instead of a user's palm.
Cisco's Spark Board is being billed as an all-in-one collaboration device. It's the physical embodiment of Cisco's Spark service, able to facilitate essential meeting elements such as digital white boarding, video conferencing, file-sharing, and more. Not only is it a physical presence in conference rooms, it's powered by the cloud, giving it a flexibility that will be a perfect fit in today's mobility-focused landscape.
The above should give you a pretty good idea of the advantages offered by Cisco's Spark Board. However, let's go more in depth as to how it's managed to put whiteboards in conference rooms everywhere on notice.
Where the Spark Board gets the better of whiteboards
Cisco's Spark Board offers:
Continuous workflows. Everything created using Spark Board is stored in a cloud-based, virtual Spark meeting room. This space is accessible via any device with the Spark app, allowing attendees to take an active role in meetings, whether they're in the room or on the go. Also, say a meeting runs long and needs to be continued remotely. The Spark app allows Spark Board content to follow attendees, something unheard of with legacy whiteboards – unless power tools are involved.
A familiar user experience. The Spark Board delivers an experience smart device-savvy attendees should be very accustomed to at this point. White boarding can be done with either a Cisco Spark Pen or with the tip of a finger. The Spark Board even features a home button. The result is a device meeting hosts can begin extracting real value from with only a minimal learning curve required.
End-to-end data encryption. Businesses that sacrifice security in the name of convenience risk paying a heavy price. The Spark Board asks for no such concessions. Instead, it secures device connections using the Secure Real-Time Transport Protocol. Meanwhile, a variety of Advanced Encryption Standards are leveraged to provide end-to-end data encryption.
Wire-free connectivity. How many meetings have you been in where the first few moments were squandered as attendees or hosts attempted to sync essential devices? How many quests have been launched in search of the correct dongle or adapter for the job? While this isn't a concern with legacy whiteboards, it also isn't a concern with Spark Board, which connects wirelessly using the Spark app to all applicable devices, allowing meetings to start right on time.
High-quality audio and video. Sure, the Spark Board can't transport remote attendees into an onsite conference room, however, it can do the next best thing. The Spark Board promises high-quality, 20-kHz audio coupled with equally high-quality video. The Spark Board comes with a built-in 4K camera and a high-resolution, 4K screen to match. The fixed lens camera covers an 86-degree field of vision, giving remote attendees a view almost as good as if they were there. Additionally, the camera is discrete so as not to inspire any awkwardness early on.
Bring the Spark Board to your conference rooms
Want to talk more about modernizing your conference rooms and your overall collaboration capabilities? Arraya's Cisco Practice can answer all of your Spark Board and Spark questions and help you plan out a proper upgrade strategy. They can be reached by visiting: https://www.arrayasolutions.com/contact-us/
Also, you can leave us a comment on this blog post by way of our social media presence: Twitter, LinkedIn, and Facebook. While you're there, be sure to follow us to stay updated on our latest blogs, industry insights, and exclusive events.