Dell EMC Makes 3 Big Changes to its Mid-Sized Storage Portfolio
Changes are coming to Dell EMC's midrange storage portfolio. With the unveiling of a pair of new solutions, performance upgrades, and an opportunity for investment protection, Dell EMC has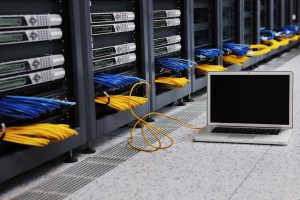 made sure organizations whose storage needs fit that bill will have a lot to consider regarding the future of their data centers. For some organizations, that future got a little bit closer in light of a different piece of recent news from the tech giant.
Last month, Dell EMC released a list of data management technologies set to go end of life on January 31, 2018. This includes a variety of Unity solutions, as well as offerings from the VNX and SC Series lines. Once end of life occurs, those solutions will officially be on the road to retirement. While that road is lengthy – the final milestone, end of service life, won't arrive until January 31, 2023 – it's never too early for organizations to start looking ahead. Any business whose data center includes a solution for whom the clock has begun to tick will want to make sure they're paying close attention to the other moves Dell EMC is making in the mid-tier storage space.
Let's take a closer look at some of these changes and determine what opportunities they may represent for businesses.
What's next for the SC Series
As mentioned above, the SC Series turned up on Dell EMC's list of solutions hitting end of life come the New Year, represented by a lone model: the SC4020. The same press release announcing the SC4020's end of life also suggested where businesses could look for a minimally disruptive and use case appropriate replacement: the SC5020.
Dell EMC also just announced the release of a new, all-flash version of SC5020, or as it has been dubbed, the SC5020F. Businesses upgrading their existing SC4020 solutions, but looking to stay in family, will be presented with a choice. They'll have the option to stick with a hybrid configuration of the SC5020 or begin embracing all-flash. Should they make the decision to go all-flash, they may even want to go beyond the SC5020F, instead upgrading to the new SC7020F model.
Here are three use cases for the SC5020F and SC7020F deployments:
Businesses with enterprise-class performance needs.
The arrays may be midrange, but the performance is not. Businesses will experience performance boosts of up to 399,000 IOPS per array or 3.9M IOPS per multi-array federated cluster.
Businesses eager to balance scalability and availability.
Right out-of-the-box, the SC5020F and SC7020F can link with existing multi-array clusters, taking the hassle out of provisioning for workload migrations and load-balancing. Also, they feature auto-failover to keep the business humming despite a potentially disruptive event.
Businesses in search of a (mostly) hands-off solution.
The SC5020F and SC7020F aren't entirely hands-free, however they are self-optimizing. These solutions can conduct intelligent data deduplication and compression to ensure they operate at the highest level, ensuring a positive ROI.
Unity receives an efficiency boost
Also going end of life this January? No fewer than four Unity models, as the clock will start ticking on the 300F, 400F, 500F and 600F. Once again, Dell EMC has suggested a path for businesses in search of an upgrade to follow. The company recommends the 350F, 450F, 550F, and 650F respectively as the appropriate upgrades.
Moving from one model to the next has gotten much easier thanks to a recent refresh of Unity's OS. The latest version, v4.3 enables non-disruptive system upgrades as well as other improvements, including:
Inline deduplication to boost the efficiency of the array's all-flash nodes.
Synchronous file replication to prevent data loss and keep businesses performance seamless.
Confidently invest in the data center
Customers purchasing new Dell EMC Unity and SC Series solutions will be eligible for a whole new level of peace-of-mind thanks to Dell EMC's new Future-Proof Storage Loyalty Program. This unique pledge offers customers:
A three-year satisfaction guarantee on new purchases from either product family.
A pre-assessment and restriction-free 4:1 all-flash efficiency guarantee.
Everything needed to store, manage, and protect data delivered in-box, meaning no additional licenses will be required for a solution to perform as expected.
Flexible credits toward select hardware upgrades or the purchase of new Dell EMC solutions.
Next Steps: Start planning the future of your data center now
Want to learn more about potential data center upgrade paths or latest offerings available from Dell EMC? Arraya Solutions' Data Management team can help guide your business through the technology vetting process, ensuring you have access to the expert knowledge and support your business needs. Start a conversation with us today by visiting: https://www.arrayasolutions.com/contact-us/.
Also, check us out on social media – LinkedIn, Twitter, and Facebook – where you can leave us a comment or question about this blog or follow us to stay on top of all our industry insights, special events and company news.