Digital Transformation is Here to Stay: How to Thrive
In IT, it's possible to go from white hot to yesterday's news in the blink of an eye. Digital transformation is one of the industry's favorite pet topics at the moment, however, unlike many buzzwords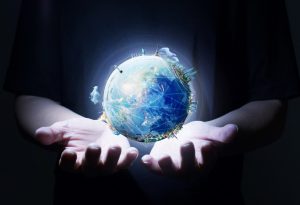 that came before it, this one doesn't appear to be going anywhere soon. Instead, research indicates that – if they haven't yet – IT pros and the organizations they support should begin making adjustments that will allow them to keep up as connectivity continues to spread.
These are the findings of the most recent version of Cisco's long-running Visual Networking Index (VNI). Over the course of the last decade-plus, the Cisco VNI has tracked the growth of the Internet while offering predictions for the future of tech. The latest VNI, covering 2016-2021, includes a number of metrics that seem to confirm anyone expecting digital transformation to fade away is destined for disappointment.
Here are five of the top takeaways from Cisco's VNI:
Global IP use to triple by 2021 – Last year, global IP traffic sat at 96 exabytes per month. By 2021, Cisco projects that number will roughly triple, hitting 278 exabytes per month. This growth will be spurred by increased adoption of personal devices and Internet of Things-driven machine-to-machine connectivity, among other factors. For its part, IT will want to consider the effect that more employee devices and the spread of the IoT could have on their environment in the coming years – and architect accordingly.
Wi-Fi & mobile dominate connectivity – In 2016, Internet traffic looked like this: 52% went through Wi-Fi, 10% through cellular, and 38% via fixed sources. By 2021, Wi-Fi will remain at the front of the line (53%) however, changes are coming. Soon, cellular will account for 20%, while fixed sources will be responsible for 27% of traffic. This can provide a helpful guide for IT teams looking to re-architect their network to ensure bandwidth is available where it's needed most.
Users are living on the edge (more than they were) – Come 2021, the network core could start to become a little less overtaxed. Cisco's VNI suggests that, by that point, more than one-third of Internet traffic will move closer to the edge, bypassing the network core. As we've discussed in previous blogs, this will mean organizations must adjust their security mindset, focusing greater effort on defending user identities, or as we've dubbed them, "the new security perimeter" – while still staying true to more traditional approaches.
Growth coming to SD-WAN – Networking itself is also set to face some changes according to Cisco's VNI. The study predicts SD-WAN traffic will achieve a compound annual growth rate of 44% compared to 5% for legacy WAN deployments. Organizations planning to incorporate SD-WAN in the coming years will want to check out our post on four features they must have on their SD-WAN wish lists for help choosing the best-of-breed solution that matches their needs.
DDoS getting bigger and meaner – Distributed Denial of Service (DDoS) attacks are a favorite tactic of cyber criminals. This method – which knocks resources offline with a barrage of requests – is only going to become more of a thorn in the side of security professionals with the spread of digital transformation as DDoS attacks project to increase 2.5-fold by 2021. The peak size of DDoS attacks spiked 60% year-over-year, while average size increased 22%. IT pros will want to make sure they have a plan in place to respond to these attacks should they find their organization in the cross hairs.
Don't let digital transformation leave you scrambling
Arraya Solutions offers a variety of services designed to help organizations ride the digital transformation wave. Our team can discover business strategies and initiatives, assess the suitability of enterprise and digital platforms, standardize and modernize enterprise architecture, and help design a road map to connect digital efforts to business objectives. We can also provide the security, cloud, and infrastructure solutions and guidance needed to ensure lasting success.
Want to start a conversation around digital transformation? Reach out to us today at https://www.arrayasolutions.com/contact-us/. Feel free to leave us a comment on this post by visiting us on social media: LinkedIn, Twitter, and Facebook. While you're there, be sure to follow us to stay on top of our latest blogs, industry insights, and exclusive learning opportunities.