Don't Treat Office 365 Like A Gym Membership
Shortly after college, I joined a gym. It wasn't that I was overweight, it just seemed like something I should do – a healthy lifestyle change. The gym assigned me a personalized coach in the first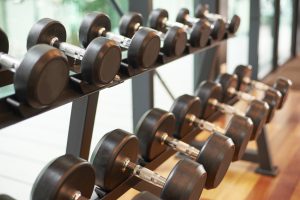 session to build a quick exercise plan. I took the guidance, but didn't really get anywhere. After a few months, the membership became a drain with no benefits.
As I hit my 30s, it was clear something had to be done. I started out on the elliptical and then moved to the treadmill. Eventually, I started running outside and now I'm signed up for the 10 mile section of the Rocky Run in November.
When I think about the annual ritual of gym memberships and the promise of getting in shape against the reality of busy schedules and motivation, I think about Office 365. Office 365 has so much promise to make your company more productive, giving your employees ways to work on their terms. An interesting phenomenon occurs after the first entry workload, typically email, is completed.
Office 365 becomes a gym that you never go to. You drive by, check out the happy people working out and see all that equipment and think, "What would I even do with all that?"
Commodity IT Services
There are some workloads IT can control beyond email, but even these can be daunting to roll out. It doesn't have to be that way. Let's look at the commodity services that can provide business value, but be delivered through IT.
First up is the hardest one, Office Pro Plus. Why is this the hardest? Office Pro Plus stalls in organizations for two main reasons – legacy compatibility and perceived training issues. The reality is that legacy compatibility represents a real security risk. Take steps to update those add-ins or applications.
For training, Office Pro Plus isn't as complex as you think. These tools aren't the most widely used in the world because they are difficult. If your users get stuck, there is a handy little idea icon that calls for you to "Tell me what you want to do." It couldn't be easier to find legacy (or new) functionality.
Next up is Skype for Business Online. Now that Office Pro Plus is taken care of, make some basic decisions as to what you want to do. Most customers start with chat, audio, video and desktop sharing. You might need a network assessment, but this is something you can pilot in IT and monitor. The other decision you need to make is to either federate with the outside world or just to pick some strategic domains to federate with.
The first productivity boost your company will notice with Skype is a lower volume of email and a faster time to decision.
Lastly, OneDrive for Business can be a huge productivity boon, especially since you've deployed Office Pro Plus already. The hardest decision here is to figure out if you want to allow external sharing. Some content sharing guidelines and tips should probably be instituted.
Congratulations, you've laid the workout foundation and started getting value back from your membership.
Business Driven Services
The repetition of these commodity services is akin to your baseline workout. Sure, you're in better shape, but you've plateaued. To get more out of your membership, it's time to start doing more and changing it up. You can't go it alone though.
For the remaining services, IT must swallow its pride and check with the business.
SharePoint and Yammer particularly require the business. Don't fall into piloting the platforms with IT. If IT doesn't have a business need, the pilot for both will fall flat.
Instead, try reaching out to the business about how employees collaborate on documents, find expertise across the organization, broadcast announcements and other business workflows inside of email that can be pulled out into more effective platforms.
Instead of starting with IT, start with business units and pilot. You will find it will take a life of its own. IT's job afterwards is to limit sprawl and ensure security.
Accelerate Adoption with a Partner
Just like with a gym membership, the way to get the most out of it is with an expert to guide you through what will work for you.
Office 365 represents just as much of a cultural shift as a technological one. The tools can jumpstart your business' productivity and efficiency, but it can be like boiling the ocean if you don't know where to start.
At Arraya Solutions, we are your productivity experts. With several solutions in place, we can ensure that you are getting the most out of the solution. For getting you going with email migrations, no one can help you better. We've moved hundreds of thousands of mailboxes into Office 365. A great post-migration step is to bring your business leaders and heaviest technology users to our monthly hands on lab. They will be able to explore the solutions and are encouraged to think of ideas on improving business processes.
We can come to you as well. Simply schedule a personalized session, but make sure to bring business leaders to get the most value.
From implementation to managing Office 365 monthly and being that trusted advisor to keep you fit, Arraya Solutions can help. Reach out to our team today before Office 365 turns into a gym membership!