HyperFlex: A Crash Course in Cisco's Hyperconverged Solutions
If hyperconverged infrastructure has yet to make its presence felt in your data center, it may not be far off. Gartner analysts foresee that, within two years, hyperconverged infrastructure – the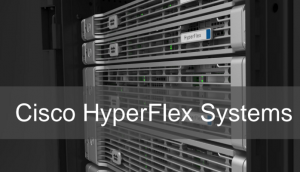 tightly integrated union of compute, storage, networking, and virtualization capabilities – will enter the "mainstream." That prediction lines up with statements from Forrester concerning it becoming part of IT's new "norm."
Moving to hyperconverged promises gains in performance and scalability while also netting adopters significant cost-savings. Arraya's Enterprise Infrastructure team has seen these benefits play out in real world deployments. They also understand no two companies have the same data center needs. That's why, rather than pushing one path to hyperconverged, Arraya supports several, one of which is Cisco's HyperFlex.
Regardless of the path a business chooses, as hyperconverged is more tightly ingrained into the fabric of IT, the biggest risk could be standing still.
Choosing the best hyperconverged solution for you
HyperFlex is one of the newer hyperconverged solutions around, having made its debut at last year's Cisco Partner Summit. Far from being late to the game, Cisco sees this as a benefit, as it enabled them to gain a better understanding of the needs of the customer.
If you're unfamiliar with what HyperFlex can do, consider this your crash course.
Take a look under the hood. HyperFlex has a reputation as an end-to-end hyperconverged platform. That reputation, like HyperFlex itself, is built on a solid base of solutions, including:

Cisco Unified Computing System (UCS) servers providing simplicity through automation and policy-driven management.
Cisco HyperFlex HX Data Platform Software enabling software-defined, enterprise-grade storage via a distributed file system.
VMware ESXi, an industry-leading, built-in hypervisor allowing for faster, pain-free deployments.

Flexible enough to meet any needs. Whatever you need from HyperFlex, there's likely a deployment option to meet it. Options include:
Around-the-clock data optimization. HyperFlex guarantees your business is always getting the most out of its resources. It does this through:

Data deduplication that is always on, across all storage devices connected to the system, e.g. SSD, HDD. Memory efficiency is optimized by storing frequently used data in tiers where it can be quickly called up when needed.
Inline compression – Like many in the hyperconverged space, HyperFlex leverages inline compression to preserve valuable disk space. However, unlike many of its peers, HyperFlex utilizes the HX Data Platform as a gatekeeper, ensuring minimal negative impact on performance.
Want to learn more about HyperFlex? Here's how:
That's a fly-by of just some of what HyperFlex can do. Look for more posts in the coming weeks as we dive further into this solution and the positive impact moving to hyperconverged can have on businesses in all industries.
Want to learn more about HyperFlex? Join us on April 12 for a free Cisco HyperFlex Gold Lab presented by the members of our Cisco and IoT practice area. This event will be held at the Cisco Offices in Malvern, PA. Click here to register.
Have a question you want answered before the event? You can reach our team any time at www.arrayasolutions.com/contact-us/ or through our social media presence: LinkedIn, Twitter, and Facebook.