Is Your Managed Services Provider Making You Feel Boxed In?
Some Managed Services providers will try to sell you on the value of scope boundaries. They'll hand you a piece of paper with a list of service descriptions and say "Here's what we do." The idea is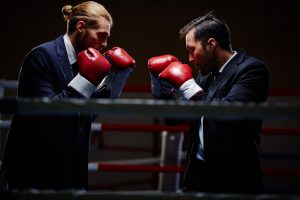 that your business should squeeze itself into one of their service tiers, and they promise you won't need anything else beyond that. They see standard service options as a path to efficiency. The more streamlined their offerings, the more predictable their operating costs will be (and the larger their profits over time). It's neat and tidy, but in reality, how often can you say either of those things about life in IT?
If a problem comes up with a deployment not on that list, your organization could be out of luck. Besides that, business goals are constantly changing and so too are the technologies needed to realize them. In this way, a pre-built service offering may only work for a short time before the business changes course and IT must follow suit.
Again, nothing that moves as fast as IT does stays neat and that tidy for long.
Looking beyond the Managed Services bucket
Arraya Solutions' Managed Services are built on the idea that efficiency doesn't have to be achieved through exclusion. Our team operates under the mantra of "Your Goals Are Our Goals." This means we acknowledge your objectives are going to change and our services will evolve alongside them. Even if this approach means more work on our end, we're confident in the team we've assembled and in their ability to meet that challenge head on.
Here is a comparison to illustrate the Arraya difference. Imagine you need help managing your data center. What option sounds more valuable?
Your provider focuses exclusively on managing specific pieces of your environment. They patch equipment with limited notice, execute changes according to their own change control and troubleshoot alerts and issues reactively. When you ask for help, they refer you to your service agreement. It's a nuts-and-bolts approach designed to keep the lights on in your data center.
Your provider works with onsite IT to identify issues early, execute changes according to your processes and propose changes to improve your environment. They take a collaborative approach that incorporates your organization's strategic goals, compliance needs and organizational culture. The service agreement provides guidelines for engagement, not a hard line in the sand. That is Arraya's Managed Services.
You don't have to face today's IT landscape alone
Fluidity is the status quo in business today. As IT organizations are being asked to evolve, they need the support of a Managed Services provider whose services can grow with them. That provider must also be able to function as a trusted advisor, one who can help IT adjust to and succeed in an ever-changing landscape.
Want to discuss how Arraya's Managed Services – a member of CRN's MSP Elite 150 for three years running – can benefit your organization? Reach out to us today at www.arrayasolutions.com/contact-us/. Our team is also available through social media: LinkedIn, Twitter, and Facebook. Be sure to follow us to stay on top of our latest industry insights, special events, and more.