On the Field or in the Office, Success Comes Down to Teamwork
While we were in Ohio earlier this year, my colleague Ryan Benner (Arraya's Vice President, Enterprise Infrastructure) and I found time to take in a football game between our alma maters – Penn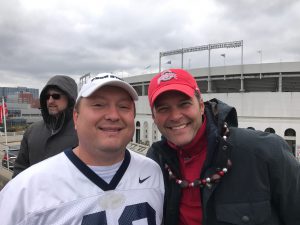 State and Ohio State. It was a great, back and forth matchup in which my team, the squad from THE Ohio State University, staged a thrilling rally to emerge victorious. Now, I don't bring this up to gloat about the victory one last time, at least, not entirely. Instead, I want to use that win to introduce a subject that is critical to what we do every day here at Arraya: teamwork.
That day at Ohio Stadium was a great example of what it really means to work together as a team. It's about so much more than wearing the same jersey. Instead, it's about coming together to accomplish something bigger than what an individual could do on his or her own, like overcoming a fourth quarter deficit to win a key game against a conference rival.
Now, things don't translate exactly one-to-one from the football field to the business world. For example, I usually don't wear a jersey to work and I often go up against multiple teams of competitors instead of one. Still, my team – the people who I know I can count on – is just as complex as a championship-caliber football team. It's a group defined by far more than simply dressing alike, doing similar jobs, or, in the case of a business, even having paychecks come from the same source.
As Arraya's Director of Sales, my most obvious teammates are my group of extremely talented and knowledgeable Account Executives. However, the job we do as a Sales unit wouldn't be possible without all of the other parts of Arraya's organizational structure. We rely on Marketing to promote events as well as our organization's thought leadership. Without our Presales team, we wouldn't be able to address the needs of our customers nearly as effectively. I haven't even gotten to our Delivery teams, our Project Managers, or our Executive Leadership – and more! Even though all of us are doing different things, our care-about is essentially the same – to create an environment that puts our customers first and helps them achieve their IT goals. Of course, we're all Arraya employees and, as I mentioned above, teams aren't always limited by paycheck provider.
Another crucial part of my team are Arraya's ecosystem partners, Cisco, Dell EMC, Microsoft, and VMware, among others. These vendors are true leaders in their fields. When myself or one of my Account Executives walk into a meeting with a customer, we do so knowing that the solution we're proposing is something that will prove to be a legitimate difference-maker. Furthermore, without the unique insights offered by vendor reps, we couldn't advise our customers with the same level of insight as we do now.
Like any good team, we know we can't stand still. The second we stop improving as a group, we're going to find ourselves looking up at our competitors. This quest to improve inspired us to expand what we can do with our Managed Services as we launched new services around Application Development, Integration, Analytics, Automation, and more. These services don't just address here and now problems. They will provide our customers with an innovative way to get an edge on their own competitors for years to come. Also in the spirit of improving, we're extremely excited about our new Staffing Services Practice. This addition will allow us to provide onsite support for our customers, functioning as a temporary extension of their technical team whenever they need us. In both cases, the personnel hired to lead these initiatives are bringing first-rate, on-the-field experience and knowledge to the role.
Technology environments are growing even more complex and the same goes for the threats targeting them. It takes a complete team effort, incorporating every facet of the Arraya organization as well as the might of our industry partners, to overcome that complexity and guide customers toward meaningful solutions to their technology challenges. Only with that level of teamwork can our customers, our OEM partners, and ourselves all come out on top when the final whistle blows.