One Question You Need Your Technology Partner to Ask
I may be new to the Arraya team, but I'm not new to Arraya. I've spent more than two decades in technology and in that time, I've often found myself either working with or competing against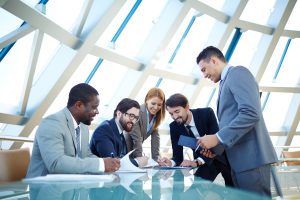 Arraya, depending on my position. Over the years, I got to know many members of the Arraya team very well, including the leadership team. I recognized their skill and passion and I could tell their customer service philosophy matched mine. So, when the opportunity presented itself to come on board as Sales Director and oversee our team of experienced and dedicated individuals, I grabbed it!
That customer service philosophy is fairly unique in an industry where so many are only interested in closing deals quickly or within their own timeframe instead of the customer's. Whatever the customer was initially interested in, that was what the quote would reflect. It's a "conveyor belt" mentality and it's something that never worked for me. I was always more interested in having conversations, getting to know customers and their desires, and connecting them to the best solution. Sometimes that best solution is no solution if I feel I can't offer what is needed.
From my experience, I knew the Arraya team shared this approach. It's a philosophy built on one little question: Why? I believe this is a question technology partners should ask all the time and, if they're not doing so, it should be taken as a red flag.
Why the interest in doing X? Why is Solution X preferred to Solution Y? I believe that some of the best, most valuable conversations a salesperson can have all start with: "Why?" Asking that opens all kinds of doors into the customer's mindset. It offers a much better understanding of what they're trying to do. It could even lead to the realization that there may be a better option, one they maybe hadn't considered due to internal biases or because of some presentation they just saw about the next great disruptive technology. Too many salespeople overlook this, accepting statements at face value and sealing a deal rather than digging deeper into motivations.
Looking at our industry as a whole, it's built around disruptive technologies. Sometimes we put too much faith in those new technologies' ability to positively impact the business. These are situations where having a partner willing to ask "Why?" can steer organizations toward technologies that disrupt for the better and not just for the sake of it.
I do recognize that at times this question may cause the conversation to move outside of the primary agenda or maybe even outside of IT. However, I urge customers to allow Arraya the chance to have that conversation and see how we can work together to develop relevant solutions that positively affect the business.
For customers who've dealt with Arraya in the past, this is all likely something they've experienced. For customers who've never done business with us, that level of partnership and attention is something they can expect in their first encounter with us and during every one that comes after. As far as my team and I are concerned, sales isn't about connecting customers with just any solution. It's about connecting them with the right one for them.