Recap: Arraya's 4/13 Security Forum
Cyber security wasn't just a hot topic for Arraya Solutions last Thursday, it was the only topic. The latest threats, response tactics, and more took center stage at Arraya's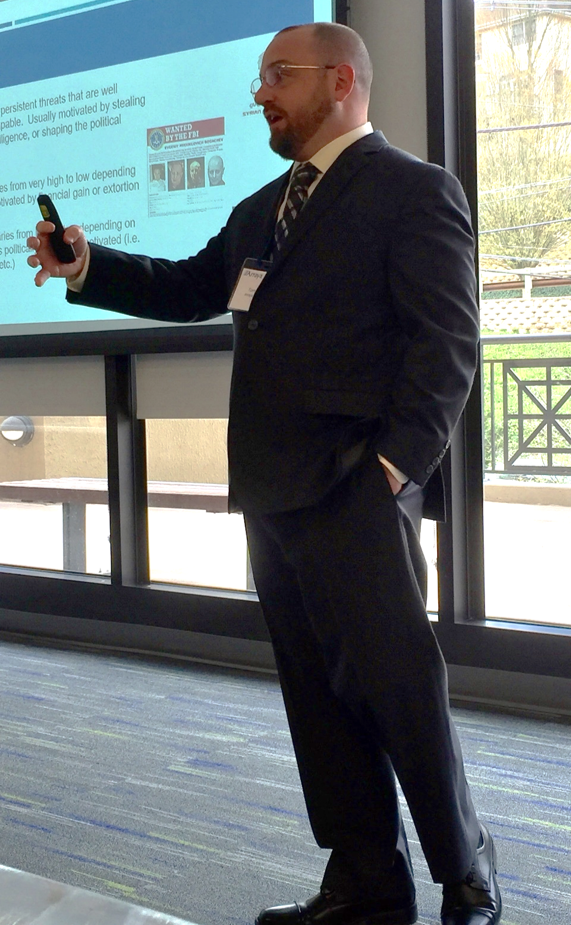 first-ever Security Forum. Attendees of the half-day event, which was held at The Hub in Conshohocken, PA, were given a unique opportunity to participate in a flyover of today's security landscape guided by Tom Clerici, Director of Arraya's Cyber Security Practice. During a trio of presentations, Clerici cited real examples, his own experiences as a cyber security professional, and even used a touch of humor to demonstrate the practical strategies organizations can use to keep their data safe.
The event began with a session on top threats and emerging trends. For all of the positives technological advances such as IoT and the Cloud have brought to businesses, they've also opened up new attack vectors for malicious actors to exploit. While this doesn't mean businesses should be wary of these options it does mean they need to incorporate a greater emphasis on security.
One emerging threat in particular seems to have separated itself from the pack. "Ransomware is absolutely becoming the attack method of choice," Clerici argued. "The bad guys have weaponized it in such a way that it's become incredibly profitable."
He went on to describe how ransomware has grown to the point where it can now be reasonably described as a business. "The groups launching these attacks are setting up help desks," he explained, to help victims obtain the bitcoin needed to ransom their data. "Each morning, we go into work, we log in to our system, and we start checking our email. The bad guys are now doing the same thing."
Clerici capped off this session by putting on his prognosticator hat to make a few predictions about the future of cyber security. Some of these were bleak – ransomware, for instance, isn't likely to be going anywhere. Others, however, offered hope – a massive push toward greater security for connected devices is on its way.
After a short break, the second presentation kicked off with a clip from the TV show The Office. In the scene, a group of office workers rapidly descends into an outrageous panic during a surprise fire drill. Far from just being a silly diversion in a day of serious discussions, this clip exemplified what could happen if an incident occurs and a business is not prepared to respond.
"The reality is that, at some point, you will experience some kind of attack," Clerici explained. "I believe that preparedness and planning beforehand are key to ensuring manageable repercussions as opposed to painful ones."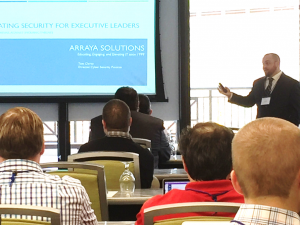 This process doesn't only require planning. It also must include constant analysis; speedy containment, eradication, and recovery; and post-incident reviews and adjustments. To illustrate the risks of being caught unaware, he used the breach that occurred at Anthem, which exposed nearly 80 million records. In this case, the initial breach occurred in February 2014 and the suspicious network activity wasn't noticed until January 2015. The fallout – including cleanup, notification, and improvements – numbered in the hundreds of millions of dollars. As Clerici pointed out, that doesn't even include the damage done to the company's reputation.
Despite security's rising profile, progress on this front can be slow. Clerici theorized this may be due to a communication gap between the business and technical sides of an organization. Bridging this divide was the subject of his final presentation at the Security Forum.
He listed three things IT can do to better translate security for leadership teams. The first is to know the audience. This includes knowing their level of tech savviness and adjusting the language contained in a security pitch accordingly. Next is to know their priorities. Operations leaders don't have the same care-abouts as financial leaders. A discussion that isn't razor-focused on the priorities of the person sitting on the other side of the table will likely have them glancing at their phone. Lastly, he suggested shifting ownership of security from IT to the organization as a whole. To do this, conversations should begin with top departmental risks, leaving it to IT to come up with the tech architecture to address them.
Gain the insights and skills you need to fight back
Missed the Security Forum? Catch Tom Clerici at Arraya's 3rd Annual Tech Summit on June 8 in King of Prussia, PA. During this free, full day event, he will lead multiple strategic, action-oriented sessions devoted to the topic of keeping businesses and their data safe from cyber criminals. Also on the docket are sessions on data center, enterprise mobility, the cloud, and more – all presented by the members of Arraya's technical team to guarantee an experience that is truly "for techs, by techs." Register today: https://events.arrayasolutions.com!
Contact Arraya's Cyber Security Practice by visiting: https://www.arrayasolutions.com/contact-us/. Feel free to leave any comments or questions relating to this post on our social media pages: LinkedIn, Twitter, and Facebook.