What to Watch in 2017: Arraya Predicts the Year in Technology
Unless you happen to have a crystal ball handy, predicting what's coming next in the fast-moving world of IT is a tall order. We don't have a crystal ball, but we do have the next best thing: a collection of plugged-in IT experts with diverse skills sets. We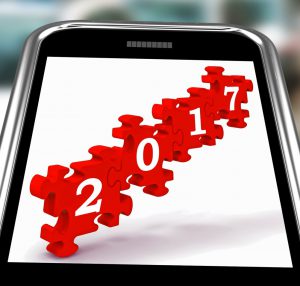 decided to tap in to the collective expertise of our team to see what they think 2017 has in store. Here's what they had to say:
Ryan Benner, Vice President, Enterprise Infrastructure
Perhaps the biggest trend in 2017 will be digitization. If they aren't doing so already, organizations will be looking to digitize their business processes in 2017 to gain a competitive edge. This includes exploring ways to improve their data analytics processes to collect and analyze data more quickly. Whether this is through gathering new information via Internet of Things deployments or more efficiently mining the data they already have in their systems, this type of transformation will be key.
Halim Chtourou, Team Lead, Virtualization
VMware has begun to position themselves as the glue that sticks multiple different environments together, regardless of whether it's a VMware environment, a trend I see continuing in 2017. This is evident in the release of vRealize Automation 7.2, which can provision VMs not only to local private clouds but to Azure, vCloud Air, etc. while also offering a comparison of how much it's going to cost in each environment to deploy a VM there. Also, the vRealize Automation 7.2 portal can integrate with Hyper V, KVM provisioning, and even certain physical infrastructures as well, like AIX.
Jason Kline, Microsoft Cloud Architect
Cloud adoption is ramping up. The end of 2016 has shown us businesses are opening up more to the cloud discussion. Trust is one of the biggest concerns for any business adopting cloud services. Microsoft has been working to build that trust over the years and has built an impressive portfolio of security certifications and meets an equally-impressive number of regulations. This, coupled with more and more use cases appearing in every industry, is what I believe is driving this new interest. I believe 2017 will be the year we see the majority of customers begin their journey to the cloud and Arraya will be ready to help them get there.
Ron Longley, Data Management Practice Manager
I believe that, for many companies, 2017 will be the beginning of the end for interest in hybrid storage arrays for primary storage requirements. Technology has advanced to the point where the performance, ease of use, and density of flash drives have all gone up, while price has come down. I see businesses taking a much closer look at all-flash because of these factors.
Jeremy Rupczyk, Senior Solutions Engineer
A big trend recently, and one I don't see changing in 2017, is the move toward the digital workspace. People no longer have to be in the office to do their jobs. If possible, they want to work from home, a coffee shop, wherever. It's part of the idea of anytime, anywhere workplaces that VMware has focused on for the last few years and will continue to do so in 2017.
Matthew Sekol, Microsoft Practice Manager
Microsoft placed a lot of focus on security in 2016 and going forward into 2017, I think this story will become even more solid. Microsoft has owned identity in the Enterprise for the past 20 years. As companies and employees move to the cloud, identity is the one control point that can be leveraged to secure content, access, and devices.
Threat Intelligence and using machine learning to detect attack patterns and behaviors on the network and across devices will also be the next frontier for Microsoft. Remember, they are operating one of the biggest IT infrastructures on the planet and can use that data set to determine what represents a threat in IT environments. Analytics and security from Microsoft will be game-changing in 2017, getting more and more people to think of Microsoft as a security company.
Rajasekar Shanmugam, Team Lead, Cisco Collaboration
I see Cisco Spark Hybrid Media Service as being one of the top stories coming to my focus area in 2017. It lets us bring a little "cloud magic" to on-premises deployments. It gives customers the option to deploy Cisco Spark meetings on-prem, in the cloud, or even both at the same time. The service automatically determines the best way to deliver the meeting for each user based on location. It also simplifies resource planning by adding users via the cloud after local resources are tapped and can hold as many participants as needed.
Kevin Taggart, Team Lead, Network Services
I'm looking forward to having Sourcefire start to replace the ASA Firewall. New hardware and software are maturing and product features are slowly migrating. It should be ready next year. The unified threat defense image will be a big win.
Robert Whann, Director, Managed Services Operations
As CIOs and Directors find their role moving to that of a business adviser in their organization, Managed Service providers will also evolve. I see us being asked to take on an even more active role in 2017, engaging in more consulting while working with different levels of management to help a customer's company thrive.
Thomas York, Director, Delivery and Project Management
Managed Services focused around cloud, specifically Azure-hosted workloads will be big in 2017. We're moving beyond Office 365 to a period of cloud transition. Key business services and applications are moving to the cloud, and there's a need to guarantee availability, performance, and security.
What else is on deck for IT in 2017?
Have any questions about our 2017 predictions? Have a few of your own you'd like to share? Our team can be reached at www.arrayasolutions.com/contact-us/. They can also be reached through our social media presence: Twitter, LinkedIn, and Facebook. Be sure to follow us for all of our latest blogs as well as alerts about upcoming special events.