Why You Should Care About the Catalyst 9000: 4 Reasons
The way in which we consume network resources has fundamentally changed in recent years. Mobile users and IoT sensors and devices have altered the way we connect to and scale our networks.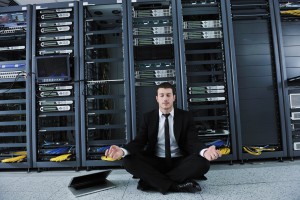 Cloud services have eroded our previously well-defined network edge. Due to these changes, an intelligent network must now be leveraged to provide insight to organizations and security to its users.
Since they were launched earlier this summer, the Cisco Catalyst 9000 series has grabbed a lot of attention. However, they're not just worth keeping an eye on because they're the latest and greatest gadget out there. Instead, they have a critical role to play in this transition between the traditional and the modern enterprise campus network.
Here are four reasons the Catalyst 9000 series is worth watching:
Reason #1: It's a building block of tomorrow's network
In a software world, hardware still matters. Cisco developed the Catalyst 9000 series with the UADP 2.0 (Unified Access Data Plane) ASIC to be the flexible building block of your next network architecture. The UADP chip is compatible with today's software defined network, offering twice the performance and a slew of new features compared to its predecessor. As software-defined networking evolves over the coming years, UADP 2.0 will adapt to support the latest technology thanks to its programmable ASIC. A x86-based CPU and removable local storage adds to the elasticity of the platform, allowing for third party container-based apps to add additional insight and value to your enterprise network.
Reason #2: It's actually three unique families
The Catalyst 9000 platform consists of three families of switches. At the fixed access layer, the Catalyst 9300 platform offers 1, 2.5, 5, or 10Gbps Multi-Gigabit access, including the support of PoE+/UPOE on the multi-gigabit ports. Today, critical enterprise infrastructure like lighting and sensors can be powered by your network infrastructure. Catalyst 9300 switches offer Perpetual PoE that provides continuous inline power in the event the switch reboots, even if the reboot was unplanned.
Reason #3: It can grow as you do
The Catalyst 9400 is built for modular scalability at the access layer, giving you the capacity to add up to 384 access ports and up to 9 Tbps of system bandwidth. Mission critical workloads will benefit from In Service Software upgrades, uplink resiliency, N+1/N+N power supplies, and Perpetual PoE.
Reason #4: It was made for tough workloads
Finally, the Catalyst 9500 platform is a fixed form factor aggregation/core switch that provides the high-speed backbone for the campus network, offering non-blocking 10/40 Gbps with advanced routing, network system virtualization, and software-defined access border capabilities. The 9500 series is designed to handle both today's and tomorrow's most demanding workloads.
Next steps: Learn more about tomorrow's networks
Your network serves a critical role of connecting your expertise with resources needed to grow and adapt in a digital economy. The Catalyst 9000 switch platform will serve as the foundation for you to adapt and grow quickly, easily, and securely. Arraya Solutions is well positioned to help your company through this transition, whether you are just starting, or are already down the path. This platform will also unlock many new capabilities soon.
Want to talk more about the Catalyst 9000 platform and its place in the network of tomorrow? Contact the Arraya team and myself today by visiting us at: https://www.arrayasolutions.com/contact-us/.