5 Questions SMBs Still Have About IDPA DP4400 (Plus Our Answers)
Dell EMC's newest offering in the SMB data protection space, called Integrated Data Protection Appliance (IDPA) DP4400, arrived with a bang earlier this summer. While the name may not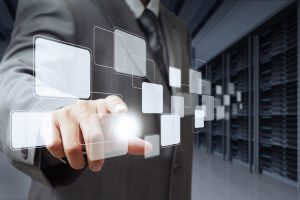 exactly roll off the tongue, Dell EMC's promises regarding the solution's cost to protection and data deduplication rate have drummed up plenty of conversation nonetheless.
Here are five strategic questions we're hearing most often from our customers – complete with answers from the Arraya Data Center team.
Question #1: "There are lots of tools out there – how much attention should I give this one?"
Answer: It depends. If your organization has ever felt as though it were falling through the cracks with the data protection market, then IDPA DP4400 could be worth a closer look. Often what we've seen with SMBs is they lack the resources, either in terms of budget or skill, demanded by enterprise-grade solutions. However, those marketed to the other side of the spectrum often slash too much in the way of performance or capabilities like diverse application support. IDPA DP4400 asks for no such compromises while boasting a price point ranked among the lowest in its class.
Question #2: "If I wasn't a good fit for IDPA before, why would that be different now?"
Answer: A lot has changed from past incarnations. IDPA DP4400 is a 2U appliance that plugs directly into existing server racks. Previous iterations of IDPA? Not so much. Those were full-sized rack offerings, designed for mid-to-enterprise sized organizations, that occupied sizeable chunks of space within data centers. Compared to what came before, IDPA DP4400 is a truly software defined, integrated data protection appliance. Additionally, IDPA DP4400 includes a new feature called IDPA System Manager. This customizable user interface offers a centralized command center from which to execute backups, automate tasks, and manage the overall environment.
Question #3: "Will the IDPA DP4400 become an issue if we hit a growth spurt?"
Answer: The knock against some data protection solutions is that they don't scale easily. As the businesses around them grow, they remain the same. In order to accommodate growth, IT would need to undertake the time-consuming and costly process of purchasing, installing and configuring new hardware components. The same criticisms can't be levied at IDPA DP4400. This solution can scale from 24TB to 96TB of on premises capacity without the need to purchase or deploy any new technologies. This way, if a growth spurt does occur, data protection shouldn't become a concern.
Question #4: "I've been hearing a lot about leveraging cloud storage for backup data – can IDPA DP4400 help with that?"
Answer: Conversations about data protection and disaster recovery just seem to have a way of ending up in the cloud before long – and for good reason. There's value in moving appropriate workloads offsite … without incurring the expense of a colocation site in the process. IDPA DP4400 is perfect for today's cloud-hungry world. In fact, cloud readiness comes standard with the solution. While IDPA DP4400's cloud capabilities include the use of Cloud Tier (allowing customers to tier older backup data to both private and public cloud storage), there's no need to purchase additional hardware or access gateways.
Question #5: "How exactly would this make data protection easier?"
Answer: Every SMB wants data protection to be simple yet reliable. Accomplishing both is a difficult ask, but not out of the question. IDPA DP4400 simplifies backup and recovery through the System Manager feature we mentioned earlier. Bigger picture, however, IDPA DP4400 functions as sort of a one-stop data protection solution. It supports physical and virtual environments and a massive application ecosystem, populated by solutions from Microsoft, IBM, and more. The idea is to eliminate silos and take care of irritating compatibility issues that crop up.  Finally, when it comes time to upgrade the components of the backup infrastructure, the IDPA DP4400 includes automated upgrade packages that are made available on a regular release schedule.
Should IDPA DP4400 Be Part of My SMB Data Protection Strategy?
Still have questions about whether IDPA DP4400 fits your SMB's data protection strategy? Want to more fully explore what it takes to keep data safe and available despite the rising tide of cyber attacks? The members of Arraya's Data Center team are ready to help. Reach out to them any time by visiting https://www.arrayasolutions.com/contact-us/.
Leave us a comment on this or any of our blogs through social media. Arraya can be found on LinkedIn, Twitter, and Facebook. Let us know what you think and follow us to stay updated on our industry insights and exclusive learning opportunities.