An Insider's Guide to the Arraya Tech Summit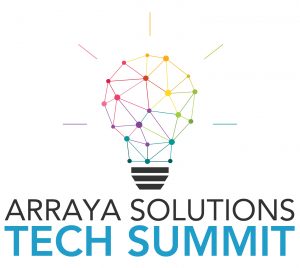 Is June 7th circled on your calendar? It should be! That's the date of the Arraya Tech Summit! Now in its fourth year, the Tech Summit has grown into our flagship event. If you haven't joined us for a Tech Summit, it's a full day of deep dives into the tools and trends shaping IT. This includes data center, cyber security, cloud, and more. Each of the day's nearly two dozen breakout sessions will be presented by a member – or members – of our technical team, guaranteeing a "by techs, for techs" atmosphere. There's also a keynote, networking opportunities and more. With so much going on, it can be tough for Tech Summit veterans and rookies alike to decide what to do next.
That's where this post comes in. Even though you don't have to pay to attend the Tech Summit, we realize it's not exactly free. Time is a precious commodity these days, particularly for those in IT. So, if you're going to invest a day with us, we want to make sure it's time well spent. Here's our best insider advice on how to do just that.
Insider Tip #1: Think hard and think ahead during registration
If you've already registered, skip ahead to our next tip. After the typical "getting to know you" registration inquiries waits a question that can have a substantial impact on your Tech Summit experience. Under "Other Information," we invite registrants to identify the eight session topics that interest them most from a list of nearly two dozen choices. Take time to really consider the list, which includes topics like Analytics, Cloud Security, etc. While the majority of sessions will only be held once during the Tech Summit, a select group will be held twice and we use this question to help us determine which ones to repeat. If there's something you think you want to see, check that box! Our experts agree, if your sessions are repeated, it makes planning your day that much easier.
Insider Tip #2: Make use of our new Arraya Tech Summit app
Forgive us for paraphrasing a nearly decade old ad campaign, but the Arraya Tech Summit? There's an app for that. Our internal app dev team has been hard at work building out a new tool to provide attendees with course descriptions, a layout of the Sheraton Valley Forge hotel – our Tech Summit HQ – and much more. Our event survey will also live on the app so, at the end of the day, you can use it to let us know what you thought of the Tech Summit. The link to our new app should be in registrants' inboxes soon!
Insider Tip #3: Get there early to catch our opening keynote
The keynote address is always a must-see Tech Summit moment and this year's promises to be no exception. Nate Fick, a former Recon Marine officer now navigating the wilds of corporate America will kick off the day. Nate is a leading voice in the cyber security arena, specializing in the prevention of corporate hacking and data breaches. His unique approach to today's top security problems involves "turning the map around" on attackers. To put it another way, Nate excels at viewing a business from the eyes of a potential hacker. Nate's presentation begins at 9 a.m., so be sure to arrive on time to avoid missing any of his insights.
Insider Tip #4: Take advantage of networking opportunities
Even though each of our breakout sessions will end with a Q&A session, there's not always time to get to every question. Or, it may not be possible for presenters to get too deep into specifics in order to accommodate questions from others. However, sprinkled throughout the day will be plenty of chances to connect with our experts in a more personal setting. In addition to a break for lunch and the cocktail reception, there are also additional morning and afternoon breaks. These free moments are great times to discuss questions or concerns more in depth. Of course, these breaks are also a good time to visit the exhibitor booths and check out what industry leaders like Cisco, Dell EMC and VMware have in store.
Insider Tip #5: Make it a social occasion
The Tech Summit is good on your own, but it's better with a crowd! If you can come with a few members of your team, you can divide and conquer, taking in sessions that occur simultaneously and sharing notes later. You can also make it a social event by taking part in the conversation online. All day, Arraya's LinkedIn and Twitter accounts will be recapping the action, sharing quotes and memorable moments from the day. You can keep up by following us on either site and monitoring #ArrayaTechSummit. Join in on the conversation by using that hashtag to share your own favorite moments or to submit questions to our team!
Insider Tip #6: The conversation doesn't have to end when the day does
Tech Summit conversations don't have to end when the event does. Instead, we encourage attendees to reach out to us and schedule a follow up meeting. These meetings are a great way to tailor the lessons learned during the Tech Summit directly to your organization's needs. You can book your follow up during the Tech Summit or you can contact your Arraya Account Executive afterward.
Next Steps: Join us for the 2018 Arraya Tech Summit
Now that you're ready to optimize your day, if you haven't already, register for our 2018 Arraya Tech Summit. You can do so by visiting: https://events.arrayasolutions.com/. This year's Tech Summit starts at 8:30 a.m. on 6/7 at the Sheraton Valley Forge in King of Prussia, PA. See you there!