Harnessing Emerging Technology to Thrive in Financial Services
Those in the financial services sector expect big changes in the coming years necessitated by emerging technology and digital disruption. Yet many businesses aren't ready for these changes. That's the opinion of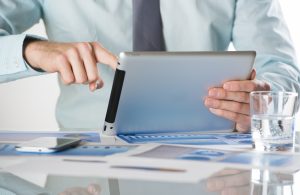 those surveyed as part of The Boston Consulting Group's Corporate Banking Executive Survey. Nearly nine-in-ten respondents (86%) agreed that emerging technologies will alter what it takes to succeed in financial services. However, just 19% of respondents believe their organization has the expertise of an industry-leader. Even more troubling? Less than half of survey participants (43%) have a clear-cut strategy in place to harness emerging technologies.
Digital disruption can be a huge opportunity for organizations, even those in regulation-happy industries such as financial services. It can streamline operations, cut costs and boost staff productivity. However, disruption is a powerful force. Organizations who are unprepared for it run the risk of being steamrolled while competitors potentially reap the benefits.
If your business is just getting acquainted with digital disruption, here are four areas to build your strategy around. If you're already on your transformative journey, then now's a good time to step back and make sure your efforts are generating the highest ROI. That means, focusing on these four areas:
Customers – The way in which customers engage with financial service providers has evolved substantially over the years. Most recently, customers have come to firmly embrace the digitization of these interactions. For an example of this evolution, you need only to look to consumer banking. A study by PriceWaterhouseCooper found 46% of customers steer clear of physical banks as much as possible, preferring to engage via their smart devices, online apps, etc. instead. Technology investments must support these changing habits or else modernization efforts may fall flat.
Analytics – Given the wealth of data today's financial services organizations generate, analytics should be part of any digital disruption conversation. Strategies must be adopted regarding tools that allow organizations to capture and analyze data regarding process efficiency, customer habits (see above), and almost anything in between. In this way, IT can harness that abundance of data and use it to drive improvements throughout the organization.
Users – In much the same way customers' methods of interacting with financial services entities has evolved, so too have those preferred by a business' end users. Organizations must learn how their users work and how that aligns (or doesn't align) with the preferences. This will ensure the technologies adopted address actual needs and wants in addition to less flexible obligations, e.g., regulations. Otherwise, instead of boosting productivity through digital disruption, an organization may simply frustrate users, leading to costly Shadow IT.
Management – Emerging technologies can impact an organization's entire structure. As such, any strategy addressing them must have the support to match. C-suite leadership must be involved in planning and must act as advocates for disruption. Seeing these efforts coming from the top should win over skeptical minds across the org chart.
Financial Services: Making digital disruption work for you
Need help getting your digital disruption plans off the ground? Or, are they already in the air and you're simply looking to reach new heights? Arraya Solutions can help. Our team has designed, validated and executed strategies focused on embracing and managing emerging technologies for organizations from all industries, including financial services. By partnering with our experts, businesses will learn how to avoid common pitfalls, reaching their desired end state securely and efficiently.
Visit https://www.arrayasolutions.com/contact-us/ today to start a conversation around digital disruption. As always, feel free to leave us a comment on this or any of our blogs through social media. Arraya can be found on LinkedIn, Twitter and Facebook. Once you've let us know what you think, follow us so you can stay updated on our industry insights and learning opportunities.