A Look Back at the 2018 Arraya Tech Summit
Last week, over 200 technology professionals from across the mid-Atlantic region converged on the Sheraton Valley Forge in King of Prussia, PA for the 2018 Arraya Tech Summit. Now in its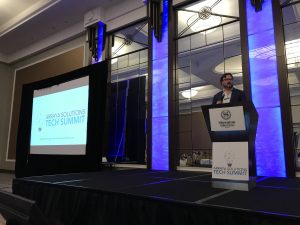 fourth year, the Tech Summit has become an annual source of insight into the present and future of IT. The day consisted of more than two dozen courses spanning topics such as data center, cyber security, cloud, and more. Each session was custom-built by Arraya's engineering team to ensure a "by techs, for techs" experience.
Kicking off the Tech Summit was a keynote address from bestselling author Nate Fick. A former Marine Corps officer, these days Fick serves as a leading voice in cyber security. His address took a no-holds barred look at the state of cyber security today. "A dollar of offense," declared Fick, "beats a dollar of defense almost every time." Far from wallowing in doom and gloom, Fick offered the assembled technology professionals practical advice on how to defend their organizations, including by, as he puts it, "turning the map around" and thinking like attackers.
Following Fick's address, attendees divided up amongst five breakout rooms to dive into the day's course load. Cyber Security was a hot topic beyond Fick's address. Sessions such as "You Can't Patch People – Protecting Users from Themselves," "Securing the Cloud: Don't Assume Your Provider is Handling It," and "Stop Cyber Attacks Cold: An Inside Look at SOC Operations" brought in crowds all day. However, security wasn't the only subject on attendees' minds. Courses on hyper converged solutions ("Realizing the Benefits of the Modern Data Center Through Hyper Converged Infrastructure"), Office 365 ("More Than Email: Tools That Maximize the Value of Your Office 365 Investment"), and Disaster Recovery ("Aligning Your Approach to Disaster Recovery with the High-Tech Risks of Today") also earned plenty of attention.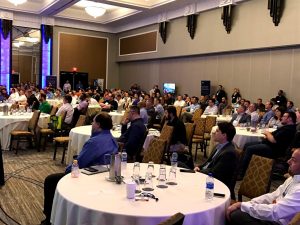 This year's event also marked the debut of the official Arraya Tech Summit app. Built by Arraya's Application Development experts, the Tech Summit app featured course descriptions, schedules, and directions on navigating the Sheraton. The app also included an exclusive survey tied to the day's unofficial theme: cyber security. Now that the Tech Summit has wrapped, the app will become a portal through which attendees can access presentation information.
Looking back at the 2018 Arraya Tech Summit – and ahead to the future
The day ended with a networking reception so attendees could follow up with presenters, visit sponsors, and network with other IT professionals. During the reception, Arraya CEO Daniel Lifshutz shared his take on the evolution of the Tech Summit and Arraya itself.
"When (Arraya CTO) David Bakker and I started Arraya Solutions roughly 19 years ago, we never envisioned an event like this," Lifshutz said. "At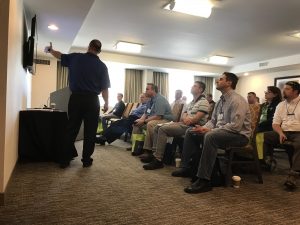 the time, we were focused on creating an organizational culture and mission that blended technological expertise with a strong emphasis on customer service. Four years ago, we decided to try this and we've been blown away by the reception to it."
Bakker added: "The Tech Summit gets bigger and better every year. We owe a lot of that to the hard work of our engineering and marketing teams. It's also because of our attendees. It's not easy for techs to spend a day out of the office, but our attendees are passionate about IT. They see value in what we're doing here. Without them, none of this would be possible."
Now that the main Tech Summit event has concluded, the Arraya team is taking it on the road. The Central PA Tech Summit will take place this Fall in Harrisburg, PA and will feature a subset of the 25 featured breakout sessions that were delivered last week. Details will be released in the coming weeks. Make sure to check https://www.arrayasolutions.com/events for the latest event information.