Are Your Users Benefiting From These New Microsoft OneDrive Features Yet?
Microsoft is constantly refining its OneDrive for Business platform to make it more valuable to end users (and employers). For already-swamped technology admins, keeping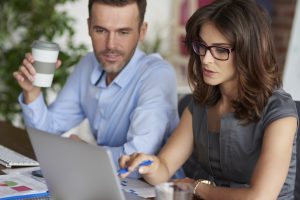 up with this steady stream of updates can be a lot to ask. Arraya's Workspace team gave us their expert perspective on some of the most noteworthy features that have come to OneDrive recently and why they're worth taking time to activate.
Files On-Demand
Rolled out as part of the Windows 10 Fall Creators Update, Files On-Demand balances easy data accessibility with a lean storage mindset. It does this by giving users a say in where their files live – on their device or in the cloud. Accessibility depends on where that file resides.
When Files On-Demand is active, users see an extra column inside their File Explorer window, called Status. Inside it will be one of three icons: a blue cloud, a green check mark inside an empty circle, or a white check mark inside a solid green circle. These icons indicate both where a file lives and how a user can access it. Let's dive into what they mean:
Files marked with the cloud indicate a folder that is currently in the cloud. In order to access the files, the user would need an internet connection and would simply need to open the files with a cloud status icon to pull down a local copy for use.
A white check mark inside a solid green circle indicates a file that is currently syncing to the cloud but with a copy always on the device.
An empty circle with a green check mark indicates a file that is currently in an on demand state. This keeps the file within the local storage for performance purposes. If the file has not been opened recently, the icon will swap to the cloud icon, indicating the file is no longer stored locally.
Files created online or on another device that are  loaded into OneDrive will automatically be designated as online only. Users can adjust this accordingly. Also, these designations can be applied to entire folders. This frees up even more space without a user having to individually reassign each file.
Redirect and move known folders
OneDrive's redirect and move Windows known folders feature grants user security and availability without requiring them to change any of their usual work habits. This feature, once enabled, automatically redirects files saved to the following locations to the cloud:
Desktop
Documents
Pictures
Screenshots
Camera Roll
Admins cab activate redirect/move without any interaction from end users at all. Workspace admins can turn it on behind the scenes, resulting in something of a seamless transition for users. Admins can also task workers with initiating the new approach themselves by leveraging a series of automated prompts. This may stir up some resistance, necessitating IT to put on their Sales hats to earn buy-in.
Next Steps: Making OneDrive's new features available to your team
As Windows 7 rapidly nears its end of support date – January 14, 2020 – there's never been a better time to look into the advanced features and functionality offered by modern Microsoft platforms. Before that date hits and security patches dry up, organizations would be best served to have long since left Windows 7 behind in favor of a more modern version, one that connects them to the options discussed above. Windows 10 is one such option. If you'd like to discuss Windows 7 end of support or what a move to Windows 10 would mean for your organization, reach out to us at any time by clicking on: https://www.arrayasolutions.com/contact-us/.
You can also learn more about life in a post-Windows 7 world at the 5th Annual Arraya Solutions Tech Summit! Our IT experts will cover today's most impactful technology topics and trends on June 6th at the Sheraton Valley Forge in King of Prussia, PA. One Tech Summit session, Enabling a More Secure, Productive Business Environment with Windows 10, will cover what to expect from workspace modernization initiatives. Attendees will also witness the newest features included in Windows 10. Check out what else is in store at this year's Arraya Tech Summit or reserve your spot by visiting: https://events.arrayasolutions.com/.