By Techs, For Techs: Recapping the 2019 Arraya Tech Summit
Technology professionals converged at the Sheraton Valley Forge last week in King of Prussia, PA for the 5th Annual Arraya Solutions Tech Summit. Whether they traveled from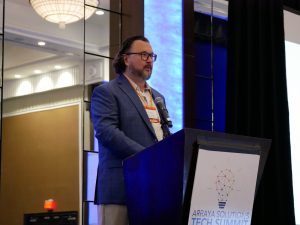 the Midwest or somewhere more local, the lure was the same: a day of deep dives into the latest innovations, presented by Arraya's engineers. Presentations covered cyber security, data center, cloud, and much more. The topics were diverse. However, at the core of each, was the "by techs, for techs" spirit that has long defined the event.
The Tech Summit kicked off with a rousing keynote address from Edward Mattison, Vice President of IT Infrastructure & CISO for Guthrie Health. Drawing from his unique career path, including time spent as the Chief of Information Assurance (Cybersecurity) at the Pentagon, Mattison illustrated what it takes to build a security-first culture. His presentation covered that concept in the context of the ongoing evolution of technology in the professional world.
"There was a time, before I came to Guthrie, that IT was seen as a cost center," Mattison said. "That was how IT departments across the world had been viewed for a long time. However, that's no longer the case. I can honestly say that, at Guthrie, we've become a strategic partner at our organization. One that has as much impact on whether our business succeeds as any of our other business functions." IT's strong internal move for greater control, a seat at the table and industry trends ushered in this change.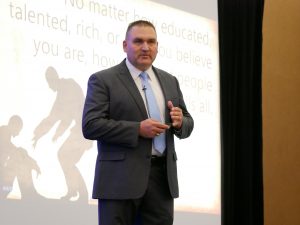 Mattison also spent a portion of his keynote dissecting how to succeed as a leader and how those parameters have changed. "With good leadership, everything else falls into place."
At the conclusion of Mattison's address, attendees divided up to explore the day's breakout sessions. This year's Tech Summit featured 20 distinct sessions, each one designed and presented by members of Arraya's technology team. Presentations included demos, in-depth technical discussions, and insights informed by presenters' own experiences with the featured solutions. Sessions on Microsoft Information Protection, Microsoft Teams, VMC on AWS, and next generation cyber threats ranked among the most popular.
Connecting with industry leaders at the 2019 Arraya Tech Summit
In between sessions, attendees could visit with our Tech Summit sponsors. Industry leaders Cisco, Cohesity, Dell EMC, IBM Security, Microsoft, Pure, Rubrik, Varonis, VMware, and 4TelecomHelp were there to meet with attendees. In addition to discussing the challenges faced by modern IT professionals, our sponsors could share their vision for IT's future.
Educational opportunities weren't limited to the breakout sessions and keynote. The Tech Summit also included a number of valuable networking opportunities in order to give attendees the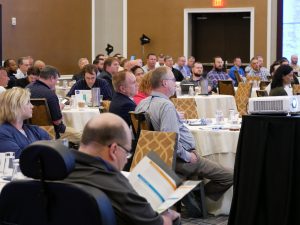 chance to connect with, and learn from, each other. "We're all in the same boat here," said Arraya CTO David Bakker. "We're all techs, so talk to your peers and your teams at the different tables. Everyone is here to learn and have a good time."
Once again, attendees had our Tech Summit app, built by our in-house experts, to get the most from the day. It included a floorplan of the Sheraton and a full catalog of sessions to make navigating the Tech Summit easier. Attendees could also use the app to interact with Arraya. They could ask presenters questions, leave feedback, view session materials, and participate in an exclusive survey.
Arraya CEO Daniel Lifshutz noted during his closing remarks that it isn't just the fifth anniversary of the Tech Summit. It's also Arraya's twentieth anniversary. "There's a common thread, all of these milestones have something in common," Lifshutz explained. "The one common thread throughout all of this is the people. Whether you're an Arraya employee, one of our partners, a customer or a prospect, we couldn't be here without you."